8th March is celebrated in most of the countries as International Women's day. It celebrates the struggle for the rights of women. The first Women's Day was celebrated in 1909 in New York, as a tribute to the 1908 strike of the International Ladies Garment Worker's Union.
International Women's Day 2017
This year's theme is #BeBoldForChange. It is about taking initiatives for a better working world.
Also Read: Typical South Asian Women Be Like
Last year's theme was #PledgeForParityCampaign. It was aimed at helping girls and women follow their dreams, fighting intentional and unintentional bias, encouraging gender balanced relationships, and creating inclusive and flexible cultures.
#BeBoldForChange
Empowering women empowers humanity. @WFP #BeBoldForChange info is here: https://t.co/nMjW6lkmiF #WomensDay pic.twitter.com/BAM7CSqzgi

— United Nations (@UN) March 8, 2017
The United Nations is urging people to help support migrant women and girls this Women's Day.
Today is International #WomensDay! Join us in supporting all migrant women and girls in a world on the move. #Planet5050 pic.twitter.com/8Z5FBV3Scl

— IOM (@UNmigration) March 8, 2017
AlifAilan is campaigning to end Pakistan's education emergency. Here is there message for this Women's day:
https://twitter.com/AlifAilaan/status/839451749240946688
TedX is celebrating by remembering women who left a mark:
Women who changed the world! #InternationalWomensDay https://t.co/Nc7mkahuzT #BeBoldForChange pic.twitter.com/9sbGe5zyDB

— TEDxAmsWomen (@TEDxAmsWomen) March 8, 2017
Support Women This Women's Day:
You can support hard working and resilient women all around the world by buying products that will contribute to the well being of women. This can be done wither by buying from companies that support women, or by buying from women entrepreneurs, small scale workers, craft workers etc.
Here are some ideas:
"Woman On A Mission" Feed Tote
These totes help feed children around the world. This one is a limited edition, women's day special totes. It will fund 10 meals for children. Alternatively, you can buy another limited edition tote from their line which will feed a kid for a year!
Clutches from CARE, Pakistan
CARE has an industrial home that provides an enterprise development program for underprivileged men and women. Profits from sale revenues are ploughed back to CARE schools, which provide education for underprivileged children.
'Embrace Ambition' Collection by Tory Burch
Tory Burch will launch an international campaign to support women who want to follow their ambition. Ambitious women are often looked down upon, while ambitious men are praised. The proceeds from the sale of this collection will go to Tory Burch Foundation, which wants to empower female entrepreneurs.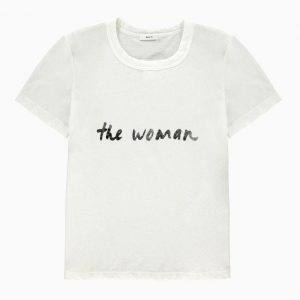 This tee shirt by A.L.C is celebrating female energy and positivity.
Birch box will offer a 20.04% discount, which is the average pay difference between women and men! They will also partner with the Girl Project to donate 5000 boxes and $15,000.
Also Read: Cultural heritage-Khussa
These are handmade in Chicago, by a team that is led by women! They are 100% vegan, and without synthetic dyes.
Celebrating women's day is a great way to remind ourselves about the innumerable sacrifices made by women all over the world. It also reminds us about the unbreakable strength and resilience of women and inspires us to never give up. More importantly, women's day is not just confined to women, men must also celebrate the greatness of women to achieve harmony in the world. Emma Watson's #HeforShe campaign is worth mentioning here. It is a solidarity campaign led by United Nations Women. It encourages men and boy to fight for gender equality.
How do you plan to support women this year? Will you be bold for change? Which action will you take from the following:
challenging bias and inequality
campaigning against violence
celebrating women's advancement
Or do you have some other idea? Let us know below!