Buying something on sale is the best feeling ever for South Asian women. Why? Because you pay less for it, you wear those clothes a lot and realize the worth. Unlike the super expensive clothes that you're afraid of wearing.
"I have been shopping all of my life and still have nothing to wear", every woman ever. Shopping is their passion, they follow the latest fashion trends, keeping in mind their particular culture and women flow with the flow. They are pretty happy in the first couple of hours of shopping because they explore the entire market/mall/bazaar. But when they do not find what they are looking for, they become fed up and exhausted. Sometimes the mall is too crowded, the clothes/shoes/bags/cosmetics are way too expensive, you don't find the perfect matching for your clothes, the shopkeeper doesn't give you attention because you've wasted enough of his time and you simply lack the patience to wait for your turn, haha. This all happens especially when some festival/occasion is around the corner.
Typical South Asian Women Favorite Lines
Below are some of the hilarious yet cute dialogues that south Asian women typically say while bargaining with shopkeepers.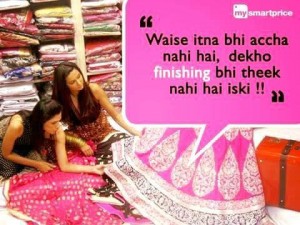 -Oh finally they are done with the dress and color selection but wait, itna bhi acha nahi hai yeh. It doesn't look perfect, let's go and check out some other shop.
-I don't have time, need to check all the shops within an hour, zara jaldi karayn.
-Khussas are cheap in price and women tend to buy them in bulk, so you might get some discount with this smart ass approach.
-Women will stop at a shop, like a dress there and move on. After exploring the whole bazaar they would come back again and ask for discount.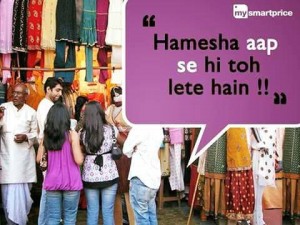 -The best way to emotional blackmail the shopkeeper is to use this dialogue. It will work out.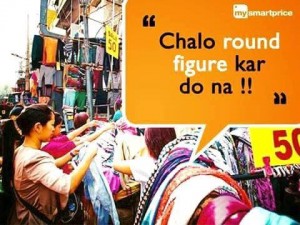 -Women will make sure they buy the clothes within their budget.
-This sentence will never disappoint you.
-Sigh! Women will compare the prices because they master the art of bargaining.
-Oh, you can always use this line to make the shopkeeper happy.
"The quickest way to get to know a woman is to go shopping with her".
-Marcelene Cox