With the wedding bells ringing, one of the prime concerns of the going-to-be-married is looking flawless. Why won't it be? After all it's the biggest day of their lives. The problem here is that when it comes to the bride or ladies in general, they themselves are each experts of looking remarkable. Moreover everyone, from the family to friends is bent on making the bride the prettiest lady of the night. What about our poor groom? I myself being a very cautious person about how I look can understand how perplexed might a groom feel due to the limitations and little options our society and culture has to offer to develop a fresh and handsome attire for the groom's night. So they can both be the best looking for the night. So I am here to help you, yes you, the confused groom to be to help you out of your problem and suggest you some excellent wedding wear for men.
We are going to start with a very simple, old school yet still very dashing and true to our culture dress. The Kurta Shalwar. From simple, standing out in the crowd due to their color and cloth kurtas to heavily embroided royal kurtas, we have a wider than wide range for this popular dress. A very common choice for functions before barat like mehndi or nikah and even on Barat this desi look digs. Here's some options for our groom.
You'd find these options to be diverse. Now you could either chose a simple kurta with a beautiful make and vibrant colors to give a decent and elegant outlook to your personality or you could also choose from these fancy Indian style kurtas to stand you out in the crowd and bring out the model in you. Taking it on with a stall can add to your persona. It can rock the whole outlook as shown in the pics.
Next we come to the traditional grace we have inherited from the father of the nation. Ever since his inclination to the dress, this dress has been a symbol of grace. The Sherwani. It makes you look graceful and hot at the same time. With the right stitch and a little bit of a built body. This dress is going to make girls swoon over you. Of course it's the groom's wedding day so we can't take no chances. We have some of these lined up too.
It too ranges from colors to designs to sizes. You make your choice according to what suits you but a groom just can't miss this dress on a wedding. You have to get in a sherwani at least once in your marriage. You could carry it with a turban or not according to your taste, but personally I like a crown like turban to tell everyone the master of the ceremony is here. You could wear it with shalwars, or pyjamas of different varieties along with a wide range of footwear available in the market.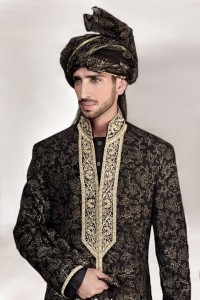 Now we are left with the good old two and three piece suits. Mind it, it's your wedding so we are not just going to settle at some suit. We are going to make sure it's the best suit y
ou ever buy. So in a suit what do we look for? Starting from the best colors that takeout the best of you to the most fit make to the most perfect combination, everything counts. Remember that its once in a lifetime day (most probably) so don't try to save money and go to the best suit makers as the make is very important in a suit. You could have a two piece or a three piece, but I like the three piece one better for a groom. Here are some good looking suits for you to make up your mind but make the best choice when you go groom-ing.