The trend developed years ago is now losing its market but still attached to the hearts of Pakistani women. Yes I am talking about Long shirts. Long shirts versus short contains a long lasting history. Time ago when fashion of short shirts was replaced by lengthy and extended shirts, women felt a little reluctant to adapt them. They were of the view that long shirts are just lingering and tacky to carry. That long shirt fashion actually took very long to merge in our mainstream culture which reflected the adaptability capacity of our women. But as soon as it got homogenized with our woman's mindset and cloth set, it got populous. Then there was like a flood of unique and variable designs of long shirts. Every woman jumped into the dominance and filled their wardrobes with the best available long shirts. This shows that long shirts versus short shirts were in semi finals. Tailors were directed to stitch as long as it touches the ground and creep on the ground while walking. This was the demand on women on average. Not to mention tailors lost their chance of saving a clothe piece from shirt piece as long shirts required every bit of cloth piece to be used. Rather they started demanding for more clothe to put in the shirt for that extravaganza queen look whose fish tail gown flows behind her like a highness.
Also read "Gul Ahmed Latha Kurta Wear"
Also Read "Trendy and glamorous hairstyles"
Now after this splendid and long lasting era of long shirts, fashion setters are switching the followers back to short shirts fashion. Again the long shirts versus short shirts is having a contest. The designers are launching their new collections which include short shirts with trousers jeans Capri etc. Fashion weeks by renowned fashion designers are consistently using short shirts for their models ramp walk. I think the key lies in the hands of fashion designers. Whatever they launch is catchy to every woman out there. And that trendy woman wants to adopt the fashion that is a big inn. Long shirts versus short shirt is a proper competition now. One on one. The duel of long shirts versus short shirts does not end here. Fashion engineers are attracting the crowd to medium and short shirts of silk, chiffon, cotton and lawn. As the summer shines brighter, fashion makers have geared up and brought back the old buddy i.e. short shirts. Every other woman wishes to get her hands on the latest trends and fashion first but the wisdom here lies in the selection of fashion that is luxuriously comfortable to you. Do not compromise on your comfort level and grace. It is not necessary that every trend suits everyone. So c'mon women! Don't be a blind follower. Choose your worthy style. Staying up to dated is a good thing but staying decent casually and formally is way more important.
Short shirts with kurta styles and bold prints are now circulating the market but you have your choice still in your hands.  Sometime when you blindly follow a trendy outfit, it ruins your personality and looks. If you haven't seen, don't under estimate me, I have a bird's eye view for opinions and comments of people around!! Short shirts will only rock when they will maintain your grace as well. Go for it if it is giving you good match with your overall look. Here are some suggestions for growing trend 2015.
Grab the short shirt with abstracts and French print that look cooler. Choose cigarette pants (I disagree with the term). They are inn and cost you a reasonable price. Straight trousers are also hooking. Go for color shades according to your skin tones. I don't need to elaborate on it. However summer colors are mostly bright. Designers are launching ready to wear medium shirts which are neither too short nor too long so make a better choice. It doesn't matter if you are chubby or bony, right choice brings you on safe side. So stay tuned and look stylish!!
Long Shirts vs Short Shirts
Long Shirts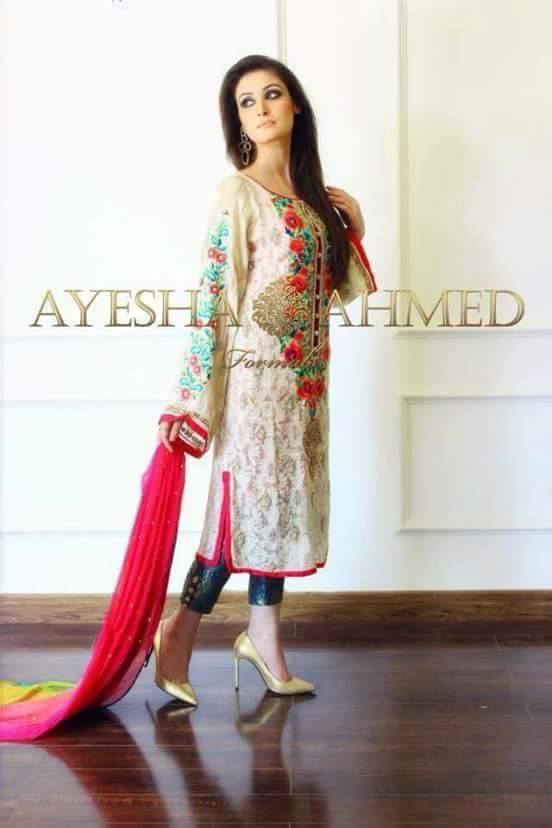 Short Shirts