Hijab is a veil that covers front chest and head of women. Hijab is deemed necessary in some religions and trends as well as in some cultures. As far as our Asian women are concerned, hijab trend is getting at its peak nowadays. On conducting a survey about hijab adaption, statistics showed 55% women value and prefer hijab, 13% wants full face covered hijab, 8% are of the view that only dupatta is fine. Out of 55% , women had different opinions . Some acknowledged that a trendy yet decent hijab makes them feel good and comfortable.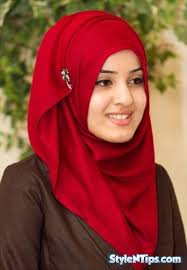 Hijab are now coming in several designs and shapes. You can well appreciate them in my featured images. A hijab gives women a look of modesty and uprightness. Hijab has its various styles and modes. Hijab keeps the sacred beauty of women hidden yet discloses the respect it contains. Chic and new ways, new colors are draped over head as hijab and look really appealing. Studs are also in fashion on forehead region hijab.
Stretchy caps are also used by many women before wearing a complete hijab. Distinctive designs are made of hijab. Actually it all depends on the face cut of that specific woman wearing hijab. May be round shape face needs double triple layering of hijab scarf to cover the chubbiness of face. Slim faces may only need single layering g of hijab. Sometimes dupattas are used as hijab with such soberness of experts. Your every day dupatta can make u feel good because it is also matching to your overall dress.
Hijab represents the highest level of civilization and modesty that human has achieved. Wear your best!!