Gul Ahmed is Pakistan's largest clothing brand which tries to bring new and unique ideas. They always aim at being different and standing out in the crowd by bringing fresh pieces for their consumers. This time they have brought this new unique style of Rickshaw kurtis.
Also Read: "Digital Dream Collection by Gul Ahmed"
Rickshaw Kurtis by Gul Ahmed
Also Read: "Trendy and glamorous Eid hairstyles"
To keep Pakistan's culture alive and make it globally famous they took this step and it is unique and catchy. Combination of orange and blue has been choose for these rickshaw kurtis to make them more cultural and artistic.
Also Read: "Khaadi Cambric Autumn Collection 2015"
Also Read: "Alkaram Mid Summer Collection 2015"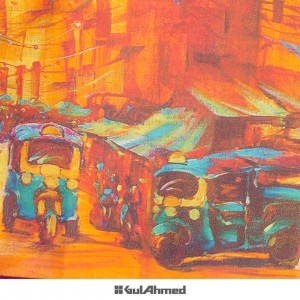 Also Read: "Gul Ahmed Mid Summer Collection 2015"
This is a printed kurti with artistic and blended print of rickshaws.  This is a classic print of Gul Ahmed's collection. Their designers have done a great effort to make culture alive into new era.
Also Read: "Gul Ahmed – A Beautiful Life"
These kurtis are traditional yet glamorous. The brand paired white laced pajamas with these kurtis. The shirt shown is a long shirt with pajamas which looks really beautiful. It gives the impression of bold and unique combination which makes you shine more.
Also Read: "Gul Ahmed Eid Collection 2015"
Gul Ahmed's attempts to create stunning pieces never fail and that is proven this time too. What do you think of these rickshaw printed kurtis?
Also Read: "Latest Pakistani fashion trends"