Wedding is the most important day in the life of every girl who is going to be the bride. On this special day the girl wants everything to be completely perfect. From top to toe every bride want to look the very best and perfect. For this one day brides take months to prepare. A very important thing this day are the bridal shoes. Here we list the top shoe brands for perfect bridal heels.
To get the perfect bridal heels, is a daunting task. They need to be dreamy and fairytale like and also match the outfit and theme of the wedding. Usually brides prefer to wear heels on this special day but it is not necessary and if you are not comfortable in very high heels then it is recommended not to wear them. You can wear shorter heels or even fancy flats. There are a number of options as far as top shoe brands that you can choose to get the perfect bridal heels.
Top shoe brands for perfect bridal heels
All big names in the shoe industry have an exclusive bridal range. From Valentino to Jimmy Choo, all the shoe makers are bent on making the most exquisite wedding shoes for women that are in alignment with the wishes and fantasies of the brides to be.
Here is the list of top show brands for perfect bridal heels. From each brand we have selected one of our favorite shoes from their collection too.
Badgley Mischka
If you love shoes, you must be in love with the Badgley Mischka designs. These shoes are just wow. And their wedding collection is irresistible and adorable. You just cannot select one shoe for your wedding day. Here is our current favorite from their wedding collection. It is made of pure chiffon and suede and is available in three delicate tones of pure white, baby pink and vanilla satin. Of course we are partial towards the white but if your wedding dress has other shades you can match them. It has a robust heel of 3.5 inch but do not be intimidated by the height. The Mischka brand is known for comfortable heels that can make you stand straight for hours without giving you muscle pain.
Givenchy
read more Luxury Brand Michael Kors To Buy High End Fashion Company Jimmy Choo
Another high class in the world of fashion and style. The shoes by Givenchy are simply heavenly. Their designs and colors will compel you to stock up much more than what you really need. Here again you can get stumped about what to wear and which shoes to choose. Here are perfect peep top ankle strap high heel sandals from the house of Givenchy to tell you what temptation really feels like. It is in the nude color and is priced at $1,095.
However if you are not in the mood of lighter tones, here is a red one in almost the same design without the platform. It is again a pair of shoes to die for.
Gucci
The house of Gucci is a trusted brand name and you can be satisfied that no matter how sky high the heels you are buying would be, with Gucci you can have the comfort as well as style. They have a wide range of high heels. You can choose from a wide range of colors and styles. However if you want your wedding shoes to be in the shades of metallic, then we would definitely recommend Gucci because their gold and silver collection is just wow.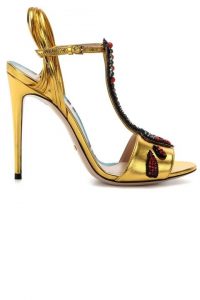 Here is the crystals embellished metallic shoe that is every bride's dream shoe. The deep gold color will go with white, silver, and other shades of nude. And the colorful crystals provide a beautiful contrast. How can a bride resist such a charmer? Priced at 1095, you might look out for the sale season, to get it at a reasonable rate.
Aquazzura
Aquazzura always has some really great shoes in their bridal line. They have a large collection of unique metallic and nude. You can find sky high heels in their collection as well as really cool and pretty flats. They have medium sized heels too, so you can go to their store without any worry as you will find what you are looking for easily.
We were unable to decide upon one Aquazzura bridal, so giving you two tantalizing options. Now choose between them, if you can.
Nina
So if you are looking for class and style and also want to shop on a budget, then Nina is a perfect option for you. There is a huge collection of beautiful bridal wear shoes available from Nina. Within a hundred dollars you can get amazing wedding shoes from Nina.
Nina is available on Amazon too, so that means you can surely get good deals on the Nina shoes, come the sale season on Amazon. These are perfect for bridesmaids too. Even if you are a guest at a wedding and want to buy great shoes, go for Nina.
Also Read: Rickshaw Kurtis by Gul Ahmed
Here are a couple of perfect bridal heels by Nina.
Jimmy Choo
Jimmy Choo has become every bride's dream shoe and rightly so. Their designs and colors are such as to lure all the brides to them. Usually the wedding photo shoot is incomplete without a peak at your beautiful Jimmy Choo shoes. They claim to make your wedding day even more special. They specialize in wedding shoes and if you visit their site you can find shoes not only for the bride but especially designed shoes for bridesmaids, mother of the bride, honeymoon, wedding guest and everyone related to the wedding. Here are the signature bridal coat shoes by Jimmy Choo that we have chosen as our favorite. One reason to choose these from the collection, besides their utmost beauty is that they are reasonable priced too. You can find a wide price range for perfect bridal heels by Jimmy Choo. So choose whichever range is easily affordable to you.
Also Read: Rickshaw Kurtis by Gul Ahmed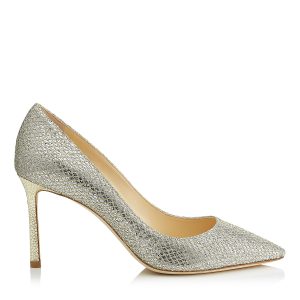 Kate Spade
Bows, sparkles, glitter and crystals, Kate Spade's bridal collection will entice you into buying the shoes that will make you feel like a little girl ready to dance. They beautiful and irresistible collection by Kate Spade is something that makes the bride really happy. They like to experiment a lot with their perfect bridal heels and so you are bound to find something different and unique here. Here is a sample from their elegant collection.
Valentino
Of course how can we have any list related to praising shoes that does not have the name of Valentino included in it. The name itself denotes class and repute for a great pair of shoes. Valentine styles are famous and it is one of the top shoe brands that can provide you with the ultimate perfect bridal heels. Here is a dreamy pair of perfect bridal heels by Valentino.
Also Read: Red Shoes for Men: Fashion Statement or Disaster
So what are you waiting for? We have given you the most amazing and wonderful list of top shoe brands for perfect bridal heels. You can start your shopping spree now.