A decade or two ago, if there was any talk about red shoes, it was presumed to concern women only. Red shoes featured in fairy tales and movies (remember the famous red ruby shoes of Dorothy from wizard of Oz) as a luxury item that girls wore often, however men wearing red shoes was quite unheard of, unless they were dressed as clowns or jesters. Times have greatly been changed now. Red shoes for men is all the rage these days.
There was a fad some time ago about men wearing neon colored shoes. It most prominently included yellows, orange and red. Out of these three colors, the red color made the greatest and lasting mark. You can see celebrities and athletes flaunting their hot and flaming red shoes on the red carpets as well as in normal routine work.All big men's shoes brands have started creating red shoes in different styles from sneakers and slip ons to lace up and formals. Now there is no shortage in variety and design of red shoes for men.
Why so much hype about Red Shoes for Men?
Okay women have been wearing them for years and years so what if men also want to wear them what is the hype about. The main reason is that red is a bold and drastic color. It signifies attraction and wants a lot attention. Because of the glowing blaze of this color it is highly noticeable and attractive to everyone. Whenever it is worn by anyone, they are immediately highlighted in a group.
Opened in 2019, Cosmos Win online casino attracts the attention of players with its diverse range of games, large selection of games with live dealers and many convenient and secure payment instruments. In the review on https://spinsvilla.net/casino/cosmos-win-casino-review/ you will find out more about the bonuses available on the site, withdrawal conditions, registration and other features of the gambling club.
read more Men's summer fashion trends
So if worn in shoes, the whole attention will go to the shoes in the attire. For men wearing black, brown, fawn or other dull colored shoes is a routine. Now anything that is different from the routine attracts talk and feedback.
Some people being afraid of this feedback will shy away from wearing the color red in shoes. Others worry about what outfit to wear with red colored shoes or that whether they will be able to pull them off or not. Well here is to all the reasons you are saying no to red shoes; people will d idle talk no matter what you wear, they will see, talk and then forget so wear whatever appeals to you.
Different types of Red Shoes for men available
Red is available in all shapes and types. First let us see the sneakers or joggers that is the most commonly wearable shoes by men. Red sneakers are available for different combinations, or standalone. They can be high top or normal. Here are some famous red sneaker designs from the biggest sports shoes company, Nike.
After sneakers, loafers and slipons are also commonly used by men. They can be formal or casual. Depending on the dressing you can wear different types of slip on reds with your outfits. Here are some great designs in red shoes from Versace and Gucci. These are the hottest from their latest collection.
also read about men's fashion Distress Jeans: Ways to wear them
Formal reds are a sight to behold, however very tricky to pair up with. That is why you do not see formal reds often. Here are some great formal red shoes.
There are slippers and flip flops in red available too. Even if you want to be casual or rough there are still ways you can be stylish and chic. Adding a little color will enhance your casual outfit to formal without any effort.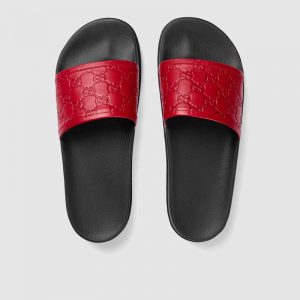 Red Slippers from the house of Gucci
How to wear red shoes for men?
Now for your second concern, here we present some great ideas in which you can wear red shoes with normal everyday outfits. The outfits are taken meticulously selecting styles that require regular everyday items and will look smart on people with different body shapes and sizes. So here you go, our top looks with red shoes.
Lets start with the basic. Wear your favorite tee with blue or black denims and red sneakers will pair up with them beautifully. Of course do not wear a wed colored t-shirt to look like a post box. A plain white or black tee with jeans can be pulled off with red sneakers. In fact here the glam factor of the color red will enhance your ordinary outfit and make you stand out from the crowd. Check out the look below for further illustration of our point.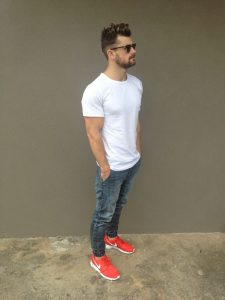 Secondly, if you have a really really great pair of red shoes that you want to flaunt seriously, then go for an overall black outfit. The red and black make a good combination. And with all the black, the focus will automatically shift to your great red shoes, just like you wanted to.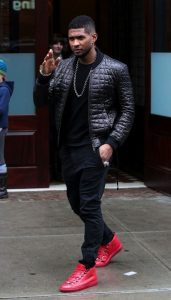 Wearing white pants is also a great way to flaunt your red shoes. Red shoes look really cool and daring with white pants. You can pair this with a light colored top. All white does not very nice with red so I recommend wearing some light colored shirt without choosing white as the main color.
read more Sunglasses: trends for summer 2017
Also for an ideal and stylish workout look you can wear red sneakers with black trousers; here you can combine with a red accessory like a hoodie or a red jacket. This will make you feel energetic and refreshed for the workout without feeling any fatigue.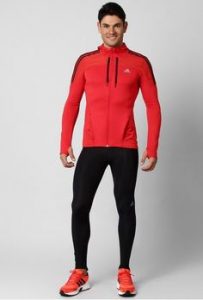 Red shoes can also go with formal suits for men. Any colored suit can be pulled off with the right pair of red shoes. For example red formal shoes will look great with a black or grey suit. The main thing is when you are wearing a color as bold as red for your shoes.
Some People might think that red shoes are for young men only, which is wrong. Older men can also pull off red shoes without any awkwardness, in fact looking graceful and elegant.
Then try to keep the colors for the rest of your outfit a bit toned down. A monochrome combination will go well with red shoes. Never go for an overall red look, because then you can become an eye sore instead of being and eye candy.
Do you like red shoes for men? What is your favorite outfit with red shoes? Share with is by commenting below.