Dubai based beauty line owner and fashion entrepreneur Huda Kuttan is named as the most highly paid top influencer on the image sharing website Instagram. It is hard to believe but she takes a staggering $ 18,000 just for one Post that equal to Dhs 66,000 in the local currency. Thus she tops the first ever Instagram rich list.
Highest paid Instagram Influencer on the Rich List
She takes this fee for sponsored posts however it is seldom that she takes up a sponsored post. She is very careful and meticulous in choosing the products and companies that she endorses. She only chooses select items and would not compromise quality for money. That is why now followers trust her blindly and endorsement from Huda beauty brand gives a huge boost to products and makeup artists. So people are happily paying high amount of fees to Huda beauty in order to get featured on Huda Beauty Instagram or Huda Beauty Blog.
Also Read: Health And Beauty Benefits of Green Tea
The Instagram rich list along with celebrity rich list have recently been created using the Instagram Scheduling tool that is called HopperHQ. Instagram is fast becoming the top image based social media app. So in order to access the usage HopperHQ tool was made.
She is named among the Times top 25 most influential people on the internet along with Donald Trump, JK Rowling and Kim Kardashian. In the Forbes top 10 beauty influencers list she is ranked number 3 this year. This has made Huda Kuttan among the top of the list in the A list of beauty influencers in the world. At just 33 years of age and having no family background in the field of beauty, Huda's quick and fast ascent in the field of beauty products is indeed miraculous.
read more Motivational tips for a healthy lifestyle
She is the queen of liquid matte lipsticks. A type of lipsticks that have surpassed all the previous lipstick styles. It gives the lips a fuller and wet look without the use of anything extra. Huda beauty products are now famous and available throughout the world through Sephora.
Liquid matte lipsticks are not the only claim to fame of Huda Beauty Line. They have created world renowned Highlighter kits, eye palettes and lip strobes. Huda plans to extend their product line to include other beauty products too. Innovation and experimentation is one of the keys to their success. Because they create new formulas and colors thus people are crazy about their products.
read more Low calorie foods you can eat all you want
This taking the different path had compelled Huda to choose Instagram as the main source to give beauty tutorials instead of Youtube that had been previously the most popular channel and still today a number of famous channels give beauty tutorials.
With the exponential growth and popularity of Instagram, the Facebook owned social media app is extending its functionality beyond all limits.
According to Mike Binder, the co-founder of HopperHQ is of the view
"With approximately 700 million active monthly users across the world, it offers a wealth of potential customers for brands that have the budget to harness the influence of the people on our lists, and a chance for people to make a real career out of 'gramming'"
With the increase in paid posts on Instagram, the creation of Hopper HQ has been fundamental in determining the trends related to paid posts. According to its survey one in among 20 Instagram posts are paid content. Following this trend the new rule has been created by Instagram. The rule states that all users who do create paid content, advertise that it is sponsored with a "paid partnership" label,to ensure that followers of popular channels know that content has been paid.
Also Read: DIY Face Masks To Give Your Skin A Healthy Glow
As of today's statistics Huda Beauty has 20,741,070 followers. There are around 12,000 posts made by Huda beauty and its Instagram ID is 44222792. It has more than 10,000 daily followers and during the festivals like Christmmas, Easter and Eid the visitors increase manifold.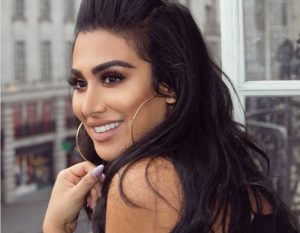 Apart from that Huda is known to promote the work and products of talented newbies and would promote them on her account for free. So if you think you are good enough in the field of beauty, you can send your product and its promotional images and videos to Huda beauty official and maybe get lucky and be featured in Huda beauty Instagram posts.
Also Read: Natural weight loss remedies
Are you a fan of Huda beauty products? Let us know by commenting below.