Peel-off masks are masks that you put on your face and peel them off once they dry. As you can probably imagine, peel-off masks suck away all the grime, dirt and impurity away from your face, to leave your skin looking squeaky clean.
Benefits Of Using Peel-Off Masks
Peel-off masks are great at taking out all the dirt and dead skin cells from your skin. You will have a skin that is clean after using a peel-off mask, and as we know a healthy skin is the one that is clean. Peel off masks attaches to the top layer of the dirt and dead skin and in clogged pores. When you peel the mask off once it dries, the mask lifts off dust and dirt, making your skin radiant. Most peel-off masks contain antioxidants, which are great for your skin. Antioxidants are essential for a youthful glow as they fight free radicals. Mos peel-off masks contain vitamin, plant-based or fruit extract which gives your skin a boost of antioxidants. Peel-off masks can also be a great anti-aging tool. They reduce pore size and make your skin firm, making your skin brighter and more even toned. Consistent use will also reduce fine lines and wrinkles, Go for peel masks that have vitamin E or vitamin C in them. Vitamin E has anti-aging benefits, and vitamin C is great for skin brightening. Peel-off masks also absorb excess oil from your face and unclog your pores, which gives you a natural matte complexion. Peel-off masks get rid of oiliness without dehydrating your skin. Peel off masks attach to the fine facial hair on your face and uproot them when you remove the mask. This will make your face look polished and radiant. This is great for ladies looking for a natural way to get rid of facial hair. Do you know that your skin will not be moisturized properly if you apply a moisturizer quickly or unevenly? A face devoid of adequate moisturization ages faster. Peel-off masks are heavily hydrating and moisturizing. Peel off masks also have a soothing and calming effect on your face. The anti-inflammatory properties of peel-off masks help remove dirt, grime, dead skin, sebum, whiteheads and blackheads easily and reduce skin inflammation. This can also help to prevent breakouts.
Peel-Off Masks To Try
Pilaten
This is a tear off mask that is great for blackheads and acne. It helps remove blemishes, cleanses your pores, and makes skin firmer. It is available for $15.67 from Amazon. This mask is made from a charcoal base which is great for skin. It also removes facial hair, so it leaves your skin looking very clean and polished.
Also Read: Health And Beauty Benefits of Green TeaA
Get Your Glow On
This is a brightening peel-off mask that has botanical extracts that are great for making your skin glow. It also has papaya and citrus extracts, which are both great for reducing pigmentation and brightening skin. It get rids of dead skin cells, cleanses pores, and gets rid of breakouts. Papaya helps new skin cells to grow and citrus boosts radiance. You will end up with a stunningly smooth and radiant complexion. This peel-off mask also smells great and hydrates your skin too.
Enlite Super Face
This peel-off mask costs $19.99. It has platinum which helps other nutrients to absorb better into the skin. For a products with platinum in it, this product is actually quite cheap. You need to let it sit for 20 minutes to 30 minutes for it to completely dry.
Also Read: DIY Remedies For A Flawless Skin And Gorgeous Hair
Alba Good & Clean Pore Purifying Mini Peel
This mask eliminates dull surface cells, minimizes pores, and makes skin look smoother and brighter. This products helps to purge toxins from your skin. Skin toxins are the key cause behind most skin problems. It has 6% alpha hydroxy acids, which is a unique fruit acid detox fusion that helps to eliminate dull surface cells, dissolve pollutants and purge toxins. This product is free from phthalates, artificial colors, parabens, animal testing, synthetic fragrances, sodium lauryl/laureth sulfate or sodium myreth sulfate. It is also oil-free, has 100% vegetarian ingredients, is non-comedogenic, is hypo-allergenic, and has been dermatologist tested.
Masque Bar Hydrating Peel-off Mask
This peel-off mask peels away dead skin cells and impurities. The cucumber extract moisturizes skin, and makes it smooth and silky. It is recommended for people who have dry skin and dark spots. It is ideal for deep hydration.
Also Read: Treat Your Skin With These Vitamin C Products
Freeman Feeling Beautiful Cucumber Peel-off Mask
This mask peels away impurities and leaves your skin looking fresh, and silky, without over drying. It is blended with botanical extracts to make your skin look fresh and young. It has melon, cucumber, and ginseng extracts which are all great for cooling and calming skin. This products has not been tested on animals. It also smells great. This peel-off mask is great for people with acne-prone skin and large pores.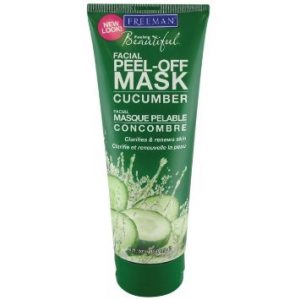 Peel-off masks can be a great add on you your beauty routine. They help to sucks away grime and dirt, without stripping your skin of its natural oils. They are also very hydrating and nourishing. The turnover of the Australian gambling industry is more than 20 billion Australian dollars a year; this amount covers all traditional clubs, online games and lotteries, https://8tracks.com/jordanstuckey in case you are concerned about the legality of Australian online casinos, consult local and state legislation or ask for advice from an accredited body. On top of that, they can also help you get rid of facial hair if used regularly.
Also Read: Best Shampoos For Colored Hair
Do you use peel off masks? Which one is your favorite? Let us know in the comments below!