The summer season brings with it the beautiful and intricately patterned vibrant lawn collections. Once again the cities are painted with large colorful hoardings of pretty models donning the lawn prints from famous designers attracting women of all ages to buy their favorite design from the hottest brands and follow the lawn trends. Lawn trends of summer 2017 are already being set with major brands having released their TVCS and online catalogs as early as mid-February and by now volume 1 has already hit the stores and is fast running out.
So what is new about the lawn collection of 2017? What are the new lawn trends and how are they different from last year. A quick look at the latest TVCs and catalogs show that this year vibrant colors take the front. Reds, blues, yellow and orange take the center stage. Shirts with bold prints and embroidered fronts are not new, but are hot in demand in this season also. Chiffon dupattas with beautiful prints or printed
lawn dupattas both options are available with suit pieces.
Read more about fashion Fashion In Pakistan
The length of the shirts is variable but more skewed towards the shorter end. Now thirty two to thirty eight would be the maximum length of the shirt and anything longer will be considered last season. However the brands are ready to experiment with the shirt designs and catalogs show all kinds of variations from a traditional lawn shirt. We have kurtis with bands or collars, tunics with pockets, gown or jackets with plain undershirts, loose shirts with belts at the waist, short shirts with rounded borders etc. These are some of the lawn trends that we see gaining popularity this season.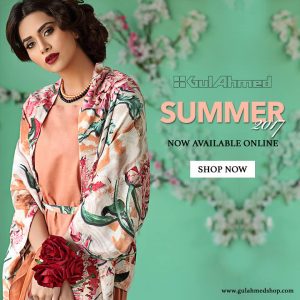 Read more on Pakistani fashion  Rickshaw Kurtis by Gul Ahmed
The bottoms are quite different this season. As compared to the previous lawn trends, this year plain bottoms are not quite liked or promoted. The trousers have embroidered end or have lace at the hem. Golden or black embroidery is quite in vogue on the bottoms. The patterns in the bottoms must have some link to the shirts so say farewell to using a couple of trousers with all shirts. This year you have to have quite a few trousers stitched to match with the shirt and dupatta. Tulips and bell bottoms both are seen in Gul Ahmad and Khaadi TVCs and these two are leading brands so get ready to see these on women all around you too. If the trouser does not have embroidery then it has to be printed but make sure your shirt is a bit plain if the trouser is heavily printed. Wearing heavy prints from top to bottom can surely make you an eyesore for the surrounding people.
Read more on clothing trends Fashion: Best Pakistani dress designs of 2016
Many people buy two piece, either shirt or dupatta and wear plain trousers with it or shirt and trouser and wear plain dupatta with it. It is especially feasible for middle class women on tight budget who want to enjoy big brand names but do not have the liberty to splurge also. This lawn trend specially picked up pace because of brands charging exorbitant amounts for lawn joras as they are in very high demand.
Lawn trends compared to last year
The price tags this year are thankfully not much higher than last year, although last year it was very high too. Brands like Khaadi and Gul Ahmad that target both middle class and elite have starting prices from 1800 and will go as high as sixty five hundred. As mentioned above the dupatta and shirt only or dupatta and trouser only combinations are cheaper and would start from Rs. 1800. Now if the dupatta is chiffon or the shirt has embroidery on it then the price tag becomes higher. Lawn dupattas are much cheaper as compared to their chiffon counterparts. The price of a complete suit will vary from four thousand to seven thousand. Again if the suit has embroidery, some fancy lace, or silk pieces that are to be attached to it, then the price tag is raised.
Brands like sapphire, Asim Jofa and So Kamal are relatively higher in prices than Khaadi, Gul Ahmad etc. Sana safinaz is another big name in the lawn industry and their lawn is quite popular. In the price range it comes somewhere between the sapphire and So Kamal collection and Khaadi and Gul Ahmad collection.
Brands invest thousands of rupees in this market to promote and advertise their brand. There are so many brands of lawn available that it is very difficult to choose from which shop to buy from. Making a choice is so difficult because the online catalogs are available, they make people confused because all the designs look so nice and pretty on the models on glossy pages.
More on fashion Lawn collection hype and the city billboards
Thankfully this year we are saved from horrendous prints that have birds and houses on them. Last year we had too many prints with houses, rikhshas, peacocks, doves and a number of other unconventional designs. Wearing a house or an elephant patterned shirts were unconventional but the people liked it and the fashion lasted for quite some time.
 Now online stores are available for all major brands. Gone are the days when you have to fight for your life to grab your favorite lawn prints. Now you can order your favorite dresses from the comfort of your home and then enjoy when the parcel is delivered to your doorstep. This trend sometime make people shop more than they require but it is good for the ecommerce market.
Lawn trends in summers maybe myriad and varied and the demand is so high that the era of lawn will not fade away for many years.
Which brand of lawn do you prefer and which collection inspired you this season. Tell us about your favorite lawn trends in the comments section below.
read more on lawn television Lawn Television commercial (TVCs)2017: A comparison
check out the new Gul Ahmad Collection here