Mobile phone accessories can make your phone trendy and different. In a world where thousand of people own the same phone as you, accessorize yours with trendy accessories.

Mobile Phone Accessories
Cases
Mobile phone cases not only cover and protect your phone, they also accentuate its look. Instead of going for a dull and drab mobile phone case, go for trendy ones. Here are some to choose from
Cheryl Daniels iPhone 6 Slim Case
This case with flora botanical strips is stylish and beautiful at the same time. It is available for $35.
Sonix Delphine Case
Available for #40.
Case-Mate 24 Karat Gold Case
Available for $50.
Cell Phone Skin
So what is the difference between a mobile phone case and a mobile phone skin? Mobile phone cases aim to protect your phone from damage, wear, and other types of destruction. Rubber, plastic and silicone cases cannot give you a 100 percent protection from failure, damage, and breakage. Mobile phone skins are a cheaper, more attractive mobile protecting option. Phone skins have room for a certain amount of protection against phone accidents, and more specifically against aging and wear. They aren't bulk like mobile phone cases.  Skins are like cases in that they protect the phone, and they fit directly on the phone. Skins come in many designs too. Are you confused which one to choose? Cases are usually more expensive than skins. But if your phone is expensive, you might want to go for a case. Other reasons that you should go for cases include: you are careless and drop phone often; you are not interested in the artistic expression of skins; you are often near water;  you do not want any scratches on your phone, and you have a child around you constantly. Skins are suitable for people who probably won't drop their phone, are interested in a personalized skin, and are not interested in spending on costly cases. Here are some mobile phone skin ideas:
Faceplates
A mobile phone faceplate is a cover-on device that covers the exterior of a phone. The covers are made from durable material, like plastic, and their aim is to protect phones. A faceplate can save from external damage that can happen from dropping or scraping a cell phone. It can also cover existing scratches and cracks on the phone. Some faceplates are waterproof for protection from water. A smartphone faceplate is more convenient than the usual phone protectors. They do not restrict the use of any button or any flip-action toggle the phone may have. They come in different sizes and shapes depending on the phone they were designed for. The solid, thin material is made according to the phone's specifications so that it fits easily onto the outline of the cellphone without inhibiting the use of the phone. It effortlessly attaches to the cell phone with a snap. You change the face plates easily.
Stickers
Cell phone stickers can be used to decorate phones and personalize the. They can also be used to hide flaws like scratches and cracks on the surface of the phone.
Headsets
Headsets are self-explanatory. You do not have to stick to your boring black and white headsets, you can buy trendier ones like these:
Charms
Are phone cases, covers, and skin not good enough to personalize your phone? Adorn them with charms to bring out the beauty of your mobile phone! Mobile phone charms are charms connected to a cellphone using a tiny strap, a band knotted with a hitch knot, or lanyard. Most phones have a loophole to attach a strap. Cellphone straps may also have additional functions like carrying medicine pills, detecting ghosts,  or mobile gardening. Cellphone charms were first famous in Japan and later, in the US They are now becoming popular in the UK and Ireland. They have also started gaining popularity in Asia. There are many types of charms, like tiny figurine characters, rhinestone crystal charms, and small stuff toys. Some charms can flash or light up when a there is a notification. Some charms also have a bell attached to them. Some charms can be used to clean your phone!
Styluses
A stylus is a small pen-shaped instrument that is used for inputting commands to a mobile device. You can put a stylus on the surface of the screen to draw something or make choices by tapping the stylus on the screen.
Phone Bag
You can use a cellphone bag to easily carry your phone around, especially if you do not have a bag and a pocket.
Also Read: Exquisite Ladies Watches
Phone Slings and Cross Body Bags
Phone Corners
Do not want to wrap your phone in slings, wraps and cases, but want to protect it too? Phone corners are your answer!. Phone corners are stick-on plastic bits that protect your cell phone. They can reduce the impact of a shock on your phone and protect it from scratches by elevating them when kept on a surface. Most importantly, they do not restrict the view of the screen or the use of any button.
Phone Wristlet
Wristlets can make it easier to carry your phone.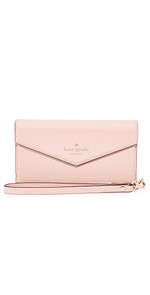 Which mobile phone accessories do you use to adorn your cll phone? Share with us in the comments below!