Any style statement is incomplete without hand accessories. And what better way to accessorize your hands than watches? Watches can add that extra oomph to your outfit. Invest in an expensive one, and it will be a part of your signature style. Here is a collection of ladies watches which is worth looking at!
Best Ladies Watches
Hamilton Jazzmaster Open Heart Lady
This watch is an affordable one from Hamilton. It is prized at $1,145. The lotus flower dial is beautiful sight. The watch also uses H-10 automatic movement with an eighty hour power reserve.
Hublot Classic Fusion King Gold 38 Bracelet
This subtle and beautiful watch is tasteful and well executed. It is priced at $31, 100.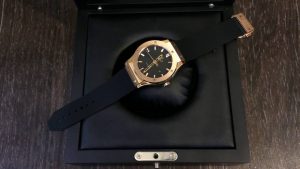 Ralph Lauren RL888 Collection
This watch pays tribute to Ralph Lauren's ladies' flagship store at 888 Madison. It has an exquisite round case, a white lacquered dial, and Roman numerals. It has a rose cut amethyst in the crown of the top tier. It is worth $19, 600.
Cluse La Roche Harvey Nichols
Cluse, which is based in Amsterdam, was only launched 3 years ago, but already has a cult following. It is a favorite among bloggers and Instagram users. The pieces are simple yet not ordinary. The watches also have interchangeable straps. Most models are under £80. The La ROche has a 38mm marble dial. The rose gold makes the watch glamorous, and the gray leather strap keeps it subtle and cool.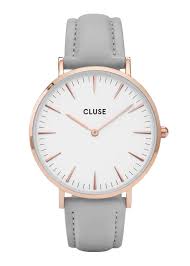 Olivia Burton Women's Enchanted Garden John Lewis
Olivia Burton's beautiful floral watches are eye catching. The patterns are inspired by nature. The soft purple hues of this one have a 38mm face and a slim navy strap. The casing is gold-plated and lighter colored versions are also available.
Fossil Jacqueline Three-Hand Date Leather Watch Fossil
This US brand makes wonderful women's watches but these leather straps are just too good! It comes in 14 different colours and styles, varieties include a pearly dial with a beautiful, pale pink strap and this more unusual green. It can also be interchanged with any of Fossil's 14mm straps. The rose gold tone and numerals keeps make this watch simple and beautiful. It is slightly water proof too, just don't drench it purposefully!
Marc Jacobs Riley Watch Watch Shop
Marc Jacobs makes amazing, drool worthy watches. The band is best known for its bracelet style offerings. The Riley has a small dial, but has four large numbers and a chunky three link bracelet. It is available in rose gold and silver tone. Riley is water proof to 50 metres.
Uniform Wares M40 Chronograph Watch Uniform Wares
This brand was started in 2009 by two British product designers who were unable to find a simple watch that could be worn every day. This resulted in chic watches. This one has a 40mm chronograph dial. There is no branding, and the leather strap is textured. It is also water proof.
Also Read: GUESS Connect by GUESS Watches: Fashion Meets Technology
Picto Rosendahl Small Black Silver Watch Trouva
This is by far my favorite! Picto was made for the Rosehandle Design Group in 1984. It has become a classic now. You can tell the hour by looking at the steel dot on the rotating dial. The minutes are shown with the usual hand. Once you start waring it, you will get used to telling time this way. The strap is of leather, and there are many color options.
VAN CLEEF AND ARPELS VINTAGE ALHAMBRA BRACELET WATCH
Van Cleef and Arpels has one of the most beautiful jeweled wristwatch designs. The Vintage Alhambra bracelet watch is delicate and sophisticated. The design has a 26 mm x 26 mm white gold case, white mother of pearl dial and quartz movement.
CARTIER CRASH
Crash has made a comeback. It was originally designed in the 1960's by Cartier. This wristwatch is a collectible item. Its free spirited shape is a reflection of rebellion and it is an artistic statement too. It has a mechanical movement with manual winding. The white gold case is has 149 brilliant cut diamonds. It weighs 2.15 CT.
Personally, I believe an investment in a beautiful watch, a classy bag, and some pair of stylish shoes is a must. Watches go a long way. You can invest in one and it will last you years. A good watch sends out a nice, impressive vibe. Choose a watch that reflects your style and personality. Also look for things like durability and water resistance. Buy Cenforce Online: https://wheretobuyinus.com/product/cenforce/ cheap. Buy from authorized dealers to make sure you are not sold a counterfeit for the same price!
Which brand do you think makes the most beautiful ladies watches? Are you a watch collector? Which designs have graced your collection? Share with us in the comments below!