Summers are usually the longest season of the year in many parts of the world. Your summer wardrobe is very important because it defines how you will look throughout the year. It is also important because there will be lot of parties at this time of the year because the summer vacations are an integral part of summer and the best time to let down your hair and have some fun. What to wear in summer sometime becomes a very tiresome question. You do not want to have the same look as the previous year but what should you do to look fashionable and trendy and yet do not deny your own fashion style and statement. Here we list the best summer outfits for you to try out.
All the designers from the bigger ones to the smallest will load us with their huge summer catalogs and we are left utterly confused what to choose and what not to choose. However there are some essential must haves, that you can build as a foundation for your wardrobe and then later add to them.
We are giving many suggestions that you can then top up with your own style and taste. Most of the stuff selected keep the comfort and ease in mind as in the hot and sultry weather you do not want to wear something that will make you sweaty or uncomfortable. Keeping the fashion trends of summer 2017 here are some best summer outfits that you must own to beat the heat and to look your very best.
Best summer outfits 2017
read more Summer 2017 fashion trends
Sundresses in vibrant colors
When we talk about summer clothing, the sundresses are the first thing to come in mind. Wear the sundresses with floral prints and designs as the head to toe floral look is making a huge fashion statement this year. For a beach party, it is an ideal dress. Younger girls can go for the shorter sundresses. The good thing is you do not need to accessorize the sundress much. Just wear it with flip flops and small studs or dangling earring and you have the perfect summer trendy look. Do not let the sun get you and use lots of sun block with the sundress.
White tops with almost anything
White looks amazing in summers. The good thing about white tops is that you can pair it up with anything. It looks great with denims may it be skirts or jeans. The white color allows you to have a fresh look without using too many layers of makeup. Also the glossy and glittery look that is in these days will look great with white as this color will tone down the flashiness in all the glitter and gold.
Short overalls
The overalls never really got out of fashion. As a summer outfit, the short overalls are the best choice. Can be worn with a plain white or black t-shirt. You can also wear then with a baby pink button down or a tiny denim jacket of a contrasting color. Overalls look great with sneakers or loafers but you can also wear sandals or slip ons as it is the summer season.
Statement or logo t-shirts
People usually love statement t-shirts or feel that they are annoying. No matter what you think about them, the statement t-shirts are the in thing is year on the ramps all across the fashion shows. If you cannot afford the t-shirt with the big brand names, it is ok, just wear something with a catchy statement. A plain t-shirt with your favorite shorts or skirt is a great outfit for the hottest of summer days. You can feel comfortable and easy and look trendy too. Too many benefits of a very cheap and small item.
read more Vacation wardrobe: What to pack and how to pack?
The denim skirt look
Summer is the best time to wear skirts. And of all the skirts, the denim skirts are ones that never get out of fashion. When the ripped denims are in the rage you can find something in that area in skirts too. A denim skirt can be paired with anything from white, black, pink, maroon or even red. The choices are endless and you can choose whatever is available to you. You can pair the skirt with high strappy sandals or even high top sneaker or boots. The denim skirt is one of the best summer outfits for girls of all the shapes and sizes.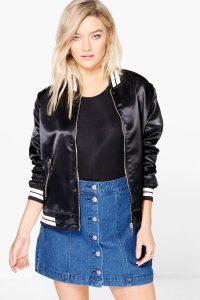 Silky shrugs and wraps
Long and silky shrugs give the perfect finish to your summer outfits. You can wear it with shorts or jeans. The transparent wrap will look beautiful and attractive and it does give your very casual clothing a different style. You can choose the wrap in the contrasting color of your inner. You can be worn over a summer dress also if the dress is of single color or in very dull colors. It eliminates the need to wear any neck accessories.
read more on fashion Lawn trends of summer 2017
Lacey summer outfits
Wearing lace is also a great summer trend. Either you wear a lace dress or a top full of lace. A garment of lace will always give you elegance and beauty. So it is a must that you add some lace stuff to your wardrobe this summer.
Summer dresses light and neon colors
Above all in the summer dresses, once again one should look for comfort. Cotton dresses in light colors look very good in the summers. Also neon colored clothing and makeup are in this year so you can find t-shirts or earrings or nail colors in vibrant neon then combine them with lighter colors to give yourself a hip finish
What is your favorite summer clothing? Which of our list of best summer outfits you like the most? Let us know by commenting below.