This is the times of the year when fashion trends for the whole year are defined. Summer is usually longest season in many parts of the world. Even where summers are short the trends of Spring and fall amalgamate in the summer collections, making the season most lucrative to establish hot new trends and change the fashion scene completely for the whole year till the winter collections that people start wearing from October or November. Summer 2017 fashion trends for women echo the statement that has been making rounds all across, Bold is beautiful.
All the fashion weeks are stressing on bright colors, sharp cuts, unusual shapes and non-conforming designs. Here let us look at some of the looks that were found on the ramps of the most prestigious fashion weeks of 2017. From London, Milan to Paris, these summer 2017 fashion trends are the highlights of the year and expected to be embedded in all the summer collections of this year.
Also Read The plus size clothing designers you need to know about
Summer 2017 fashion trends: Shocking Pinks and Fuchsia
As we are going for the bold what better than deepest of pink. Pink is every girl's favorite color and while a couple of years ago baby pink and pastels were the in thing this year the brightest and the shiniest of pinks are the hottest trendsetters.
Candy Pink, Deep cheery and raspberry, all the variations of pink are allowed to worn with style and dignity. Here we see the trend of pink from the fashion houses of Celine, Balenciaga, Valentino (Left to Right)
Summer 2017 fashion trends: Floral never gets old
The floral prints are always welcome in spring but this year keeping loyal to the bright and bold, head to toe floral look is considered to be chic. The good thing about floral is you can experiment with so many designs and colors. The brights and lights both look good when you are wear an intricately patterned floral design.  So rad in colouration, scale, fabrication and mood that designers thought it best to go full throttle in full blooms from head to toe—shoes included.
From double doses of Rococo-style jacquard florals with ruffles and raw hems at Marques'Almeida to subdued, blousy '70s bouquets at Chloé and neon carnations at Balenciaga, there is nothing standard about these arrangements. No ditsy prints here in this S/S 17 version of the fashion trend, thanks. Here are some looks that will be totally killing on women of all shapes. And the sneakers are so comfy.
Summer 2017 fashion trends: Stripes and more stripes
Bold and bright stripes are making a statement this year. They may be thin stripes like the pinstriped or thick and bright stripes. Here in the picture below you can see stripes from the houses of From Left to Right: Delpozo, Pringle of Scotland, Mulberry, Proenza Schouler, Mary Katrantzou
If flower-print wearers seem dedicated, don't think there's any less of an obsession when it comes to these alternative lines—designers were set on also styling these from head to toe too. Of course, you're more than welcome to nod to the trend with a natty striped knit or a barcoded pair of heels, but this full-steam-ahead attitude is praise worthy.
Also Read: High Heels for Tiny Girls
In the New york fashion week again there are stripes everywhere as you can see in the images below.
Summer 2017 fashion trends: Off shoulder look
It seems that to bear one shoulder is going to be the hottest trend of this season. There is just too much variety to indulge in this trend and so many combinations to enjoy. Here you can see from left to right we have Prabal Gurung, Self-Potrait, Rodarte, Brock Collection, Tome
Beautiful cut out in various forms and variations of the off shoulder look. The front may be simple but mix it with the off shoulder and you are among the fashionable crowd at once. Make it note to establish off shoulder as your style statement this summer.
Summer 2017 fashion trends: The shades of Yellow
When we talk about bright colors, yellow naturally comes to our mind. The color yellow has so much potential. It is full of brightness and variety. Covering the sunny happiness of summer season, the different yellow shades will be dominant in this year's collections along with fuchsia. See how dexteriously yellow has been used in these designer collections in the New York Fashion Week this year.
You can choose whichever shade suits your skin tone because the lighter shades and brighter shades all are there, making it a safe bet for everyone.
Summer 2017 fashion trends: The trench coats to cover all
A surprise addition to this year's summer trends is the trench coat look. The long and flowing robes are usually not something we see in the summer season and we were expecting something thin and delicate but the fashion gurus think on the contrary.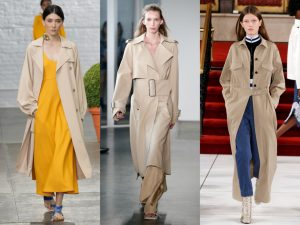 Giving the coats long flowing boudoir elegance, these silky wrap ons are not only great looking but give the one wearing them a surreal and royal look.
Summer 2017 fashion trends: Bold, Geometric and vibrant
These three themes are prevalent all through the season collections. At the S/S 17 shows, you will have seen more fashion editors wearing sunglasses indoors than ever before. Well, when you look at this rainbow of runway exits, can you blame them?
Pink—and lots of it—played a very bold part of the Paris Fashion Week schedule, with the likes of Balenciaga, Céline and Valentino all employing the most shocking shades of this pretty hue for demure dresses. Without frills, prints or girlish detailing, the power of pink was clear to see.
read more on summer  2017 https://www.fashionkibatain.com/blockbuster-movies-releasing-summer-2017/
But if that isn't your vibe, take your pick from the multicolour closet of S/S 17. From Kermit green to sunshine yellow, there's only one rule: Wear LOTS of it.
These are some of the Hottest Summer 2017 fashion trends. Let us know which ones you are planning to follow.