Hot weather is no excuse to look any less stylish and fashionable. These days men's clothing and fashion is not any lesser important than women's. Summer is the time of the year when people feel sloppy about dressing up. The summer heat makes them lazy and they think it is ok to visit every place in an old shorts and a worn out t-shirt. This is obviously not true otherwise every other designer would not splurge in comprehensive summer design catalogues. There are numerous catalogue on men's summer fashion.
Dressing up nicely does not necessarily mean to wear uncomfortable clothing that would make you feel even hotter and make you sweat a lot. It can mean to wear comfortable clothing in a stylish way. Comfortable clothes does not mean unfashionable or untidy. You can easily look hip and cool and still be wearing comfortable clothes. And if you do not have any clothing that is both comfortable and trendy then it is time to invest a little in your clothes.
read more Best Summer foods to keep you cool
Men's summer fashion are not as different each year as women's are, but there are definitely changes in designs and patterns. Sometimes the small sleeves are folded and sometimes shorts are folded from the bottom. The denim are ripped or cropped. The button downs may have strips or small repeated patterns. Whatever the men's summer fashion may be here are some guidelines about general fashion items that can be worn without compromising on the comfort and style.
Top men's summer fashion outfits
Most of the men feel comfortable in shorts in the summer season. Shorts keep them cool and way more comfortable than jeans or trousers. However some people do not wear shorts much thinking they are too casual or rough to be worn out of house. Here are some shorts combinations that you can easily try out and they are good enough to wear when you are going out to a summer party or to meet with friends at someone's house or a coffee shop or a burger joint.
Men's summer fashion shorts outfits
Shorts with a polo
Light colored polo shirts look really cool in summer. Baby pink, grey and sky blue are the best summer colors for the polo shirts. Khaki shorts are great with light colored polo shirts. In fact a good pair of khaki shorts can go with light and dark colored polo shirts both. Tuck in the shirt and wear a belt to give a stylish look.
Shorts with a button down
Shorts also look good with button downs. Keep the top two or three buttons undone and wear with dark colored shorts. Black and brown shorts will look good with every shirt, however white would look the best. But with shorts always wear short sleeved button downs. If you are wearing a vest you can wear the shirt with buttons open also.
Shorts and vest for the beach
Summer means a lot of beach parties and out door activities. If you have been good throughout the year and the extra hours at the gym have paid off, then this is the time to flaunt it all out. A plain vest with shorts can make you look pretty dressed up, if you are going for outdoor fun. Pair it with funky flip flops if the party is on the beach or wear sneakers. If the shorts and vest are of similar color then you are free to wear any funky colored shoes like neon yellow, orange or even red. You can also add a hat or a cap to accessorize.
read more Lawn trends of summer 2017
Men's summer fashion funky chinos outfits
Chinos look great on most of the men and they are available in a wide variety of colors. If you are planning on wearing a white or black plain oxford t-shirt, you can easily carry out funky colored chino like green, yellow, maroon or blue. All the colors would look good with a white t-shirt or a white polo. However the tricky part is to choose the right shoes with a different colored lower. Usually black is the day savior as black shoes look good with everything.
Jackets for men's summer fashion
Jackets are always in for men, may it be summer season or winters. You can buy summer jackets in denims or hoodies. Denim jackets look great if worn with a t-shirts and trousers. They give you casual jeans a better style too, so you can wear them with jeans also. Besides denim jackets, you can also wear leather jackets or summer bomber jackets too. Jackets do not go out of fashion especially for men.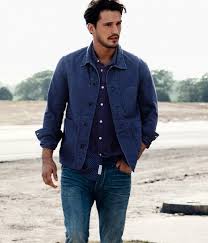 How to wear jeans with style
Jeans are everyone's favorite outfit. Most men feel comfortable in jeans. To make the jeans outfit look different and make it stand, out here are some jeans outfit ideas.
Jeans with shirts
Jeans look great with both t-shirts and polos but if you want to stand out a little, wear them with a button down shirt and a classy looking belt. If you are not in the mood to wear formal pants and shirt, then you can wear the denims and shirt combo too. It does look good with a plain shirt as compared to striped shirt or checkered ones.
Sleeveless hoodies
Sleeveless hoodies are also great to be worn in the summer. Summer is the best time to try out the sleeveless hoodies. You can wear the sleeveless hoodie over a t-shirt or a vest. In this way you will not feel warm, infact when the arms are bared one does feel cool and airy. So this is the great season to try out this kind of hoodies.
Shirts and vests
If you have to go to a formal event and you are scared to wear a formal dinner jacket or a tux because of the summer heat, try out the shirt and vest look. It does look pretty much formal and with the right color combination, you can easily steal the show at the party. Either you can match the colors of the vest and pants or wear the vest and shirt in the same shade and wear the pants in a darker shade. It is better that the darker shade shows in the lowers as compared to the shirts. You can wear a bow tie or a normal tie with this.
Short sleeves shirts
Summer is the best time to wear short sleeves shirts. There is a huge amount of variety in the short sleeved shirt area. You can choose from checks to floral, plain to patterned, strips to dots. Whatever you feel good and comfortable in, you can wear it. you can wear tight fitted two pockets or loose fitting denim or cotton short sleeves shirts, whichever you choose, all types of short sleeves, you can pull off in the summer season.
Statement t-shirts or t-shirts with logos
So if you are bent on wearing a favorite t-shirt, do remember that according to the fashion shows this year statement t-shirts are the in thing and bold and deep statements are what people are finding endearing. You can roll up your t-shirt sleeves or wear it with ripped jeans but make it trendy but a t-shirt with a good statement is in itself a great thing to wear.
Linen shirts to get maximum air
Linen is the fabric that oozes comfort. A loose fitting linen shirt will ensure that you will feel air on your muscles and would not break into sweat all through the day. So wear light colored linen shirts, white being the best option because darker colors absorb heat, while lighter ones emit it. a linen shirt can be worn with denims easily.
Men's summer fashion accessories
Accessories are the must part of everyone's wardrobe. Men need accessories as much as women. However in the summer it is best to keep the bling on the lighter side. A couple of small accessories will suffice with any summer outfit. While watches are for every season, caps and hats are better for summers. They provide the dual propose of shading your face from the sun and enhancing you look and your outfit. Wear a cap that goes well with your outfit.
Sunglasses are an important part of your summer accessories list. You can wear black sunglasses for the classy and safe look but there is also a huge variety of other colors and frames out there and you might want to check out a few funky style. Here is what our style department says about sunglasses trends of this year.
Apart from sunglasses you can add wristbands with cool quotes to your wardrobe or a chain or a ring can add bling to your outlook but as far as jewelry is concerned you do not want to over do it at all.
These are some of the hottest men's summer fashion trends. How is your favorite summer fashion, share with us by commenting below.