In the summer season it is very difficult to dress up because of the extreme heat. The sun makes you sweat and feel dull and lethargic and you feel no energy to get up and dress. Men and women both find dressing up and going out in this season a bit of a chore. So it is important that the way you dress during summer makes you feel nice, cool and comfortable. Men's fashion during summer season is the most elaborate as compared to the other seasons.
Summer is full of different styles, colors and clothing pieces. As it is the longest season, both men's fashion and women's fashion for summer are very important as they have effect throughout the year. In this article we share some really cool summer outfits for men. You can then modify the styles according to your own liking.
Here are some awesome outfit ideas for men's fashion this summer.
Wearing denim shorts with summer men's fashion Style
Shorts are the summer favorite for men. Denim shorts are a fashion statement though out the summer and every guy must have a couple of cool denim shorts with him in his closet always. In the summers you can try out the denim shorts with t-shirts or if it is a party or get together then they can be worn with a belt and button down shirt also. They can be worn with sleeveless shirts and hoodies. Shorts are also great to be worn in summer outdoor trips or beach parties.



Printed Bermuda shorts for cool summer outfit look for men
Printed Bermuda shorts are a great fashion statement in summer. They are available in so many different colors like blue, orange, pink, green or other neon prints. Wear a simple shirt in light colors if you are wearing a especially loud pair of statement shorts. If your shorts have light colors then wear a dark colored tee, however remember that a Bermuda shorts is usually loud in itself so there is no need to make yourself an eyesore by wearing some gaudy top with it.
Deconstructed Jeans With t-shirts
Deconstructed jeans serve a dual purpose in summers. They are in fashion and make you look but also they keep the legs airy and cool. So if you want to wear jeans in summer I strongly suggest getting a good pair of ripped jeans with a good amount of rips and cuts to keep to cool and perspiration free. There are many ways in which you can wear denim ripped jeans. Here are some cool ideas.
Apart from denims, usually it is good to avoid deconstructed jeans from any other material like cotton because it gets torn easily. The ideal rip must remain of the same size and does not get bigger and bigger after multiple uses.
Formal summer wear for men
Summer means a lot of parties. There are June weddings, family meet ups, and a number of formal occasions in summer. So it is very important that you have a couple of great summer formal outfits. If a tux or a jacket is too hot for you go for a formal looking waist coat. Try the waist coats. There are some really amazing designs available in formal waistcoat styles and you can find them suitable for the most formal occasions too.
Beach party wear for summer
Summer means a lot of trips to the beach. Especially if you are going to the vacation in an area with lots of beaches it is a must that you have a good beach party wear. So what is good to wear at the beach? Shorts, colorful t-shirts, printed button down, three quarter pants all these are great to be worn at the beach. They are easy to wear and will keep you nice, cool and comfortable. There can be a number of beach party looks you can choose from. Casual look, fun look, formal look etc. here are a couple great ideas for summer beach party looks. Just remember if you head to the beach for the day do not forget the sun screen. Here is how you can use the sunscreen correctly.
Casual summer look for men
Even if you are a teenager, in your twenties or middle age, wearing jeans is great and it makes you look smart and cool if worn correctly with proper accessories. Here are some cool styles to wear with jeans. Wear a jeans with t-shirt, shirt, button down, sleeveless. Jeans go with anything. For a casual evening, jean with your favorite tee is great and makes you good to go anywhere. Polo shirts also look cool with jeans. You can wear them tucked in with belt for a formal look and in an easy shirt out of the jeans way for casual look.
Going to work outfit for summer men
If you have formal dressing look for your office you must follow it but of you can wear anything then you can smartly dress up in light colors for summer. Cotton pants in lighter shades with cool colored shirts look great in summer. Khaki pants are the highlight of summer and every guy must have them. Shirts in sky blue color, grey, light green, white and fawn are a must have for summer. We are not suggesting not to wear dark in summer but it is better to keep it to a minimum and experiment with lighter colors more.
Accessories and hairstyles for summer men
The foremost summer accessory is a great pair of sunglasses. Here is all you want to know about latest summer sunglasses style. Apart from the sunglasses, wear a cool watch water resistant because of pool and beach activities in summer. Apart from that try out cool caps and hats that would not only shade you from the sun but would be your fashion statement too.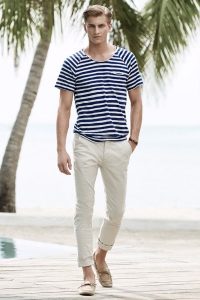 Wear shorter hairstyles in summer. Long hair are difficult to manage and also they would sweat and might make you smell bad.
read more Skin care in Summers
This was our men's fashion summer guide. Hoping that you learn something from it. What is you summer statement style? Share with us by commenting below.