Having a great outfit is never enough. You need to bling it up with great accessories to make yourself completely ready to take on the world. Accessories have become such a huge part of our everyday outfits that we cannot imagine being without them for long. Be it earrings, rings, neck pieces, bangles, anklets, you name it and you will promptly hear that yes this accessory is all rage this season. Amazing accessory trends are flooded in the markets in so much variety that it becomes quite difficult to decide which piece of jewelry or what accessory should one try on.
In this article we present the hottest accessories of spring summer 2017 collections. Getting some good pointers about which accessories to wear from the biggest fashion ramps of Paris, Milan and New York, these are some accessory trends that you can keep in mind while trying to find the best accessories to match with your outfits.
read more Men's summer fashion trends
Before we move on to the specifics, here are some general guidelines that must be kept in mind while making a decision about the outfits.
This year the main thing in accessory trends is that there cannot be enough of them. The more is the better. Load yourself in the bling and glam and no one will look down on you. It is the best time to dig up your closets for long lost pieces of jewelry, and wear them all at once.
Bold and shiny pieces are making a comeback. The shinier or gaudier the piece is, the more fashionable and trendy you will be looking.
No one part of body takes in special attention. All the accessories are in fashion this year. Hand and head gear, arms and foot wear, you can be a little greedy this year without being judged.
Although all the accessories are in but at a time you focus on one part. Why is that, you ask. Well, let us first check out some accessory trends and then settle this issue.
Different Accessory Trends
The Choker Is Here to Stay
Last year's hit accessary, the choker is still here to rock the, rockstar look with it. The choker looks extremely attractive and seductive. This year, the fashion gurus are adding accessories within this accessory. Yes the chokers with large pendants or trinkets embedded in them are hot item to get your hand on. The gothic or Greek style chokers are definitely a fashion statement, while also in fashion are the bare minimum ones, in which a single thin thread encircles your neck.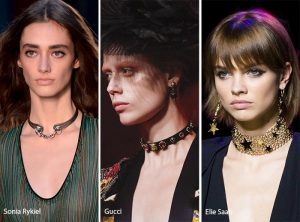 Chockers look great on long necks, so if you have considerable amount of neck, you should try on a choker.
read more Sunglasses: trends for summer 2017
The upper arm bracelets
The upper arm bracelets are great when you really are in the mood to show off your style. They look great when you are wearing strapless or sleeveless. One thing to be wary of upper arm bracelets, they are for the upper arm, please do not wear them over the t-shirts or long sleeve shirts.
If you want to wear an upper arm bracelet, make sure your arms are naked. The gold upper arm bracelets are the ultimate glamour option and you can carry it with almost any formal outfit. Black and silver upper arm bracelets are also great and go with many outfits.
Here are some great styles for the upper arm bracelets that are in fashion
these days.
Rings for every finger
While it was once considered that two or three fingers in a hand must have rings on them  but nothing more than that. Now it is definitely not the case. This year you can wear a ring on every finger, in fact you can wear more than one ring on every finger. As I have mentioned before also. Passing judgmants is not only mean but also sompletely out of fashion this year. Piece, tolerance, and brotherhood are the main themes outlining this year  or you can call them for some of it.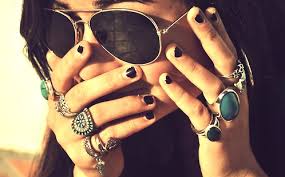 Ankle bracelets
You can glam up your feet with beautifly designed ankle bracelets. Here again go for a shiny piece of jewels that is noticeable after allowed a long break in the
Two different earrings
While this is quite an unconventional fashion style. This is the newest of fashion that has been making waves. Wear one earring which is quite big and dangly, however the other ear ring will be small or maybe not at all.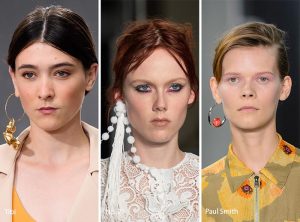 Load your arms with a lot of bracelets this will give them nice and trendy look. Your outfit must be complemented by the accessories you wear. Together the upper arm bracelet and the choker does go to give you an overall great feel and grey tastes.
Belts and Corsets
Corsets made a huge comeback these season. Either use belts or corsets, both enhance your features and body shape. The belts can be tiny or they can be broad, all the great response to chat.
Gone are the days when woman ran to every corner to find the best and matching accessary with your outfit but nowadays, it is all about building PR and contracts. Bold and shiny colors go with every outfit. It may be dull colored or deeps colored. In the end the main thing is wear a lot of accessories today.
read more on lawn television Lawn Television commercial (TVCs)2017: A comparison
Here we have presented some of the hottest summer accessory trends this summer. Which is your favorite accessory. Let us know by commenting in the section below and let us your ideas about accessories.