The fashion of wearing distress denims has struck the right cord with the population and people have been wearing the most distressing looking distress jeans lately. Young and old everyone is proud of their distress pair of jeans. In stores the distress jeans are selling like hot cakes and those who do not own them are making their old pair of denims highly distress and wearing them.
What are distress jeans?
Distress jeans or ripped jeans are the pair of denims that have large rips or cuts in them. Earlier the rips started from knees, but as the fad grew into a craze, more rips and even missing patches appeared in the jeans. The more tattered and worn out your jeans looked the more it was considered hip and fashionable.
Although now the fashion of missing patches had died a bit the rips are still considered very hot. What kind of rips in distress jeans are in, well the knees must be definitely in distress, the a couple of rips on the thighs on one side and calves on the other. Then there is also the ultimate distress look where both legs are ripped from top to bottom.
Whatever you style may be wearing a jeans without a good amount of rips is not considered good so take out your new pair, rip it apart and then wear it with pride.
read more Sunglasses: trends for summer 2017
Here are some ways in which you can wear and nicely pull off distress jeans
Ripped jeans with layers
Layers look great with all kinds of bottoms but in this case as the rips take away most of the attention, the layers try to gain as much back as possible. You can complement the casual look that the rips give, by wearing a sophisticated blazer with a shirt.
A simple plaid shirt with ripped jeans outfits
A plaid shirt with distress denims give you a rough and tough look. Keep the shirt out of the jeans and give your hair a ruffled look. Now unbutton the top few buttons and there you go, the perfect bad boy look is there. You can also combine it with some metal chains around your neck and metallic rings on fingers.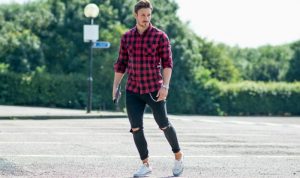 Everyday street style with distress jeans outfits
For a casual look you can wear denims with a plain tshirt and a jacket to go with it. The t-shit can be a plain oxford, black or white. Complement the look with a long jacket in dark colors and you won't be requiring any other accessories.
Smart formal look
Okay if you love your distress denims and want to wear them at a semi-formal occasion, a button down shirt with a v neck sweater will look great. Wear formal shoes to complete the image.
Ripped jeans with hoodies
The most comfortable attire that also looks nice is to combine your distress denims with a hoodie.
What is your favorite distress denim style? Share by commenting below.
read more Men's summer fashion trends