Going to the party and really excited about it, all through the week. However the day of the party comes and you are lost about what to wear to the party. You turn out your complete wardrobe on your bed, reject dress after dress and fail to find one good thing to wear. Now you are at a loss and thinking about ditching the party altogether as there is nothing good enough for you that can be party wear.
Choosing the right outfit for the party can be very stressful and cumbersome. It can also take away the fun and looking forward to the party feelings from you. However usually girls think that they do not have any outfit for the party and that is not true given the size of their bulging wardrobes. The only need is to organize the stuff and do the proper mix and match. Here are some tips and facts about dressing up for the party.
Firstly remember no body shops before each and every party. Try to find something from your closet. If your closet is full there must be something in it that you can wear.
Plan ahead. Do not leave everything for the last minute. If you know the party is in a weeks' time, decide the outfit you are going to wear beforehand.
Do not stop at deciding only. Take the outfit out and have good look at it to see if it is washed or need cleaning. If it is a new outfit do try it on before the party to see whether it is a fit or not. You do not want to wear it at the last moment and see it is not fit for you. Taking a little time beforehand will save you a lot of time and effort
You do not want to wear the same dress at every party but the truth is seldom people remember what you wore last time. You can wear the same outfit with a new shrug or warp or jacket. You can change the shoes and accessories you are wearing with the dress to give an overall new outlook.
Choose your accessories wisely. Plan about the accessories beforehand too along with the dress.
Do not try to wear something that makes you uncomfortable just because you think everybody else would be wearing that. Wear whatever makes you feel comfortable in your own skin.
read more Men's summer fashion trends
Here are some great ideas about party wear for girls. You can add and subtract from the outfits according to your own taste, wardrobe and clothes.
Vibrant colors with a tone down piece
As it is the time of spring summer collections to hit the stores. It is characterized by vibrant floral prints as discussed in the summer trends article too. So for a summer party wearing floral prints dress will make you look hip and trendy. Do tone it down it a plain jacket or plain leggings. Also if the colors and prints of your dress is vibrant you do not need much accessories to go by it.
read more Sunglasses: trends for summer 2017
All black is always safe
Wearing an all-black outfit is always safe and will make you look trendy no matter which occasion you are going to. However if you choose all black then stick to all black with shoes and jewelry included. It is a very safe combination and also easy to wear because no matter how scanty your wardrobe is there is bound to be something black in it.
Lace is in fashion and will remain in fashion
Beautiful lacy outfits are always in fashion. They are not only good for semiformal parties but also for formal events like weddings and engagements. You can wear a silk or sheer micro jacket with a long flowing lace dress or if you are into wearing a short dress then a normal size jacket and knew high boots will also look nice. Lace also looks good with hats, and if the event is as formal as someone's wedding pair the dress with an elegant hat in deep shades like black and blue.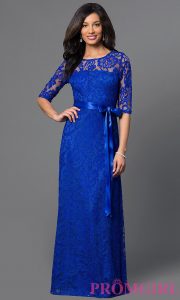 Simple summer dresses with bling accessories
Simple summer dresses in light colors look great. You can go for bold cuts and varying lengths. Dresses that are higher on one side and lower on the other are also very much in fashion. You can wear the shorter dresses with summer trench coats too. You can brighten up the dress with accessories that add bling and glamor to your style. Accessories in gold and silver color are great to go with every light shade.
Gold or silver party wear outfit for a wild party
Okay so most girls shy away from wearing these shimmering colors thinking it is too wild. However it can be worn with some lighter outwear to tone down the effect. Also you can wear simpler shoes and accessories. Here is a nice idea to wear a bold color dress without over doing it.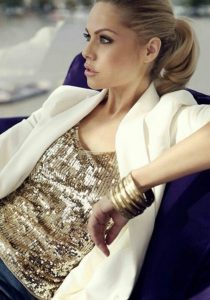 Dare to flare
Bringing flare to your top sleeves can give a plain shirt formal party look. Combine that with flare pants and the result is astounding. If the shirt is in floral print wear a plain flare pant with it. Sometimes it is difficult to decide what to wear with flare jeans. Tops with flared up sleeves make the best combination for flare jeans. You can also mix and match, with either skinny jeans with flare tops or a well fitted blouse with flare jeans.
Off Shoulder party wear dresses
Summer is a great time to wear off shoulder dresses. Try out a plain dress in single color with off shoulder look. Both light and dark colors are okay in off shoulder look just make sure the off shoulder has no many colors otherwise the shoulders will not be enhanced.
Wearing a waist belt with your party wear
Wearing a waist belt can quickly make you outfit stand out. Even if you are wearing a plain blouse and a pair of jeans, adding a nice leather belt on the blouse not only enhances your figure but also it gives an elegant touch to your overall dress. It will make a simple dress suitable to be worn in a party. Broad and shiny belts go nicely with dim colored and pale dresses while you can always wear a white belt with bright and vibrant colors. However wearing a belt will suit you if you have a great waist. Also use a belt with a proper blouse and not with materials that will have the belt falling or giving off a crumpled look.
Party wear with jeans
If you want to wear jeans to the party but are undecided whether it will look party like or too casual, the answer is simple. You can wear your favorite jeans to the party, given that your pair is up with a trendy top. A loose fitting silk top or an embroidered top will go nicely with the outfit with jeans.
Wearing red party wear
Red color almost never fail too just like black, but additionally it also bring you in the limelight. Not only red but the colors like yellow, royal blue or bottle green all are such that if your wear them they are hard to forget. So reserve these colors for special occasion only. Other outfits people forget after the party but somehow these colors prevail in the mind.
Dress pants to save your favorite top
If you want to wear your favorite top to the party but you think it is too plain, don't worry there are glamour dress pants available that can give a formal look to you're your otherwise casual and plain looking top. Just like a great top can give the party touch to a plain pair of jeans, similarly a plain top with dress pants can save the day.
Leather jackets or leather pants
Leather pants or leather pants can spice up your outfit to several notches, wear these to look cool and hip and it does not require much else once you care wearing a leather outfit.
Boots to make your day
Knee high boots go with almost all the dresses. A pair of good boots will give your outfit a very trendy look. Go for a good pair of boots that is in dark color. Dark colors go with all the outfits and it does not get dirty that easily too.
Jumpsuits for the party
Jumpsuits also look good at parties. They are easy to wear and can be worn at birthdays or get togathers. A dark colored jumpsuit with white or grey inner will look good. Belts look good with jumpsuits too.
Read more about fashion Fashion In Pakistan
These are some of the latest ideas for party wear for girls. What is your favorite party wear outfit? Let us know by commenting below.