New year, welcomes new looks and new trends in the everything. From clothing to hairstyles to jewelry and to makeup, everything is getting a new and fresh look. A whole year is enough time to try out a look and people get bored with the same old styles. While everything is changing, in this article we list the makeup essentials summer 2017. Although we have given the name summer but we would be discussing the Makeup essentials that will define the style scene in 2017 and dominate the whole year.
Matte and natural are the things of past, now is the time to try out bold colors and audacious looks. Darker shades and gothic looks are less of a something different and fast becoming the part of everyday life. Smoky and smudgy looks for eyes and glossy and shiny lips are making statement and neon colors are not only hip for clothes but try a dash of them in the eyes too.
Also Read: High Heels for Tiny Girls
Here is put list of Makeup essentials summer 2017
Makeup essentials summer 2017
Lips that shine
Shimmering lips, with darkest of the glitter gloss applied is the hottest of the lip trends that we see this year. All the big fashion shows had models with glitter lips walking down the ramps. The dark color glittery gloss looks good with everything you wear. It accentuate your lighter outfits and complements your darker colored dresses. To have the best glitter lip look combine the two essentials together. First apply a thick layer of a stain or ling stay on lipstick, then top it off with a generous amount of glitter gloss to last for the day. The varying shades of glitter lips starts from matte cherry shade to full on deep chocolate brown and are the best for lips of all shapes and sizes.
Red lipsticks
Apart from the glitter lips, the next best look for your lips is to try on the red lipsticks. If you think the fashion gurus would be tired of the red shade. Think again, red lips trend is not fading away. However the decided look for the red lips this year, is to wear it with naked face. No base or dark eye shades. Just try on the shade of red that suits you and you are good to go. The best red lipstick are available in all the big makeup brands but the collection from Mac and Sephora are above all, as they have meticulously comprehensive shades. Even if you are not much done of red color, a red lipstick is a must from make essentials summer 2017 list.
Icy blue eyeshades with a water color look
The electric or icy blue is the in shade for this season. There are great many varieties available in the lighter tones of blue for the eyes but make sure that when you go out to shop for this look to get yourself the shinier ones, which have the icy coolness and would make your eyes shine. It can be worn in an overall eye covered way, a single thick line or combined with black to have to an interesting smoky, icy look.
Neon colored eyes and nails
Neon are best for the nails. Eye shades in neon are also being considered good. The neon will definitely look good on events like birthday parties or semi-formal get together. Pink, yellow and orange in neon all have a great place in your list of makeup essentials summer 2017.
The natural look
It might seem confusing but that is what it is. On one hand we are experimenting with bold and dark shades with all the glitter and gloss in the world but on the other hand the natural look is also the in thing. Naked face that gives away no hint of makeup and or jewelry is making rounds and is considered good for the skin to breath. Now only if you have scars or acne, you need a thin coating of base on your effected areas and then a highlighter for finish, otherwise the natural look is a win win situation for you.
read more Summer 2017 fashion trends
The high eyebrows
High lines of eyebrows is also a trending look this summer. Having a glitter highbrow or a brow in neon colors can give you the look of the summer. Having dull eyeshades and a thin line of eyeliner can be combined with the glitter eyebrow. There are many looks that can be combined with this trend. The highbrow depends upon the shape of your eyebrows also.
The allover bold pink blush
The allover blush look is also a must try out this summer. Pink is the preferred color for this look. Try the pink colored blush on the cheeks, parts of forehead and the other parts of face to bring out the best of the features in your face. Here are a couple of looks are the allover look for two different skin tones.
Shine the lower lid
As discussed earlier, experimenting with glitter and shine is the in thing this summer. The lower lid is also getting a lot of attention is year. Line the lower eye lid with a thick layer of eyeliner and with a glitter eyeshade to go. Again electric blue is the preferred choice but it would depend on your outfit. Match or contrast that is your choice.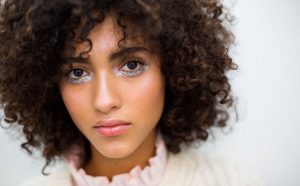 Two toned lips
So we are getting a number of cool looks for the lips this year. The two tones lips is also making waves all through the fashion weeks. Here are a couple of cool looks for the two toned lips.
Here are the hottest makeup trends. They will help you decide on what to stock up for your makeup essentials summer 2017 list.
 Also Read: Office Makeup – Get ultimate formal makeup look instantly!
What are your makeup essentials summer 2017? Let us know by commenting below.