Formal events like an executive meeting, or a charity event, or company colleagues dine out or any such event requires you to keep your makeup simple yet elegant. Your makeup shouldn't be too loud or too boring. It is advisable to just touch your lips with a lip gloss, some touch ups on your cheeks and a proper formal eye makeup. While the other makeup procedures being too easy, we guide you here with some tips on how to get an elegant formal eye makeup.
Also Read "How to Make Blue Eyes Pop: See How the Secret of blue eyes Work"
What You Need For a Formal Eye Makeup:
Cleanser / Makeup Remover
Eye Primer
Concealer
Eyeliner
Makeup Brushes
Eye shadow Palette
Mascara
Eyebrow Pencil
Also Read "Simple Steps About How To Apply Party Makeup Which You Can Try"
Let's Get Started With Formal Eye Makeup Tutorial:
Initially, you need to clean your skin. The main aim is to remove any residual makeup. You can use a makeup remover or cleaning milk for this purpose. Since we are majorly covering formal eye makeup here, so additionally also use wet wipes to clean over your eye area.
Once you have a beautiful charming canvas face, let us now get down to make it look even more elegant. Makeup doesn't look good on a dry skin, so you need to hydrate your full face with your preferred moisturizing cream. Alternatively, if you already have an oily skin, just use an eye cream for your eyes rather than going for the whole face.
Next up is to use a primer or a concealer around your eyes to let the makeup stay all day long. Also, the makeup stays crease-proof relieving you of the efforts to re-do it again or getting spoiled. We recommend using any of the beauty products mentioned as per your skin type and tone.
Let's actually get started with the main part of formal eye makeup. Begin with your eye lids by applying a frosty silver eye shadow to make the eyes look fresher and wider.
Next up is the application of neutral brown eye shadow that comes in a matte texture and also compliments your skin tone. You may need a fluffy brush to blend the product on the crease area of your eyes. Thus, adding some depth to your eyes. A word of advice for women with deep eye creases is to work on this step more efficiently since it covers up your crease and make your eyelids look good.
With the upper eyelid done, it's time for similar look on the lower eyelid as well by using the same shade of eye shadow and blending it up with the help of a fluffy brush. You can just keep it simple or try for getting a soft smokey look.
Now time to use eyeliner. It doesn't matters which eyeliner you have whether gel, liquid, or pencil. Any eyeliner will get the look but just for your information we have used a gel eyeliner over here. The eyeliner has been used to draw a thin line along the stretch of the lash line and then blended it outwards.
Now time to make your eyebrows look glam. It is a very simple step. You just need to fill your eyebrows with a brow pencil. Then make use of a spoolie brush to make the brow color blend evenly and also groom the hair properly.
9.Last step is something that we commonly do. Upper and lower lashes both are incomplete without the mascara. So just coat them up generously with mascara. A clean spoolie brush should be used on the lashes after mascara application to thin out any clumps of the product hanging on your eyelashes.  Then allow it time to settle down.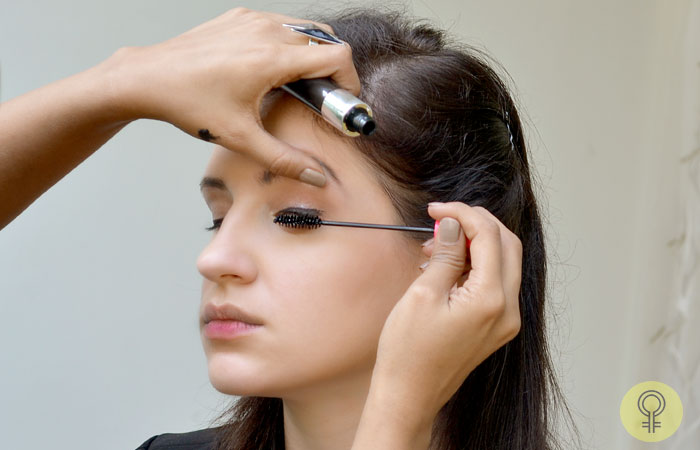 The Final Look Of Formal Eye Makeup:
Apart from this formal eye makeup, you need a foundation or moisturized to be applied on your hairline and your neck. Apply some lip gloss in shades of pink, coral or any light shade for a simple yet elegant look. Dust a little powder on your face or do some touch ups on your face.
Everything done!  You are now ready for a formal event while dressed up in formal attire, carrying an elegantly natural, soft and beautiful look
Also Read "Office Makeup – Get ultimate formal makeup look instantly!"