Hairstyles have always played a foremost role since the beginning of time. There is a major change in hairstyles since the past four decades. Hairstyles have been changing from simple to stylish, from natural to chic. Hairstyles has made big changes from the 1960's to 2001 and it will continue to do so as long as there are celebrities in this world. A lot of people want to look as beautiful and gorgeous just like the celebrities out there. Therefore these celebrities play a foremost role on the styles that come out.
Also Read "Trendy and glamorous Eid hairstyles"
A lot of times  the first impression that people carry might be very ambiguous, but a lot of people base their judgments  on the way we look .People not only judge us by the clothes we wear, and on the kind of body composition we have, but also by  the color of our skin and by our hairstyles. Majority of people base their decisions about a specific person exclusively on the looks without even thinking about their personal, educational, intellectual and financial backgrounds. This is one of the foremost reasons why most of the females make efforts to dress up. If you look nice and attractive automatically people will have a good impression about your personality and your family background. Hair impacts a women's beauty. If you have good quality hair you will automatically look good even if you just leave them open. A lot of times ones hairstyle becomes his/hers identity and he/she is remembered or recalled by his/her hairstyle. If you want to stay in style, you must keep yourself updated with the latest hairstyle along with your dress or outfit.
Also Read "Summer Makeup Tips for a Flawless Look"
When choosing a new hairstyle for yourself, always try to keep your hair texture, your features and your face shape or face cut in mind before taking a decision. With hairstyles its best not to do what others are doing, instead to look for a hairstyle that best suits your face. To figure out which hairstyles suits you best, stand in front of the mirror, comb your hair backwards from the face so that your face is clearly visible and then trace the edges of your face with a washable marker, a lipstick or even with an eye pencil.
Also Read "Sun Tan Removal Face Packs"
Hairstyle For Round Faces
For round face cuts, long layered bobs that fall below your chin, fringed bangs and layered hair that falls up to your shoulders will be most suitable. The best hairstyle which suits such face cuts are curls or waves that are created with a curling iron or thick bangs. For people with round face avoid same length cuts like the bob.
Hairstyle For Square Faces
For square cut faces, long layered hair, angled bob with long hair in the front, bangs that fall past your eyes will be the most suitable. Experiment with curls, pulling or tying your hair back into a ponytail will flatter your features even more.
Hairstyle For Oval Faces
Oval faces are more long or elongated as compared to round faces. People with oval faces can maintain any sort of haircuts.  French twists and buns are the best hairstyle for such people.
Hairstyle For Heart Shaped Faces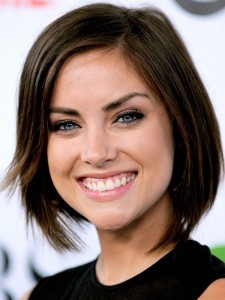 Heart shaped faced people mostly have narrow chin and a wide forehead. Side bangs will be the most suitable for heart shaped faces. For heart shaped faces short cuts four inches below your shoulders are the most appropriate.
Hairstyle For Diamond Shaped Faces
Diamond faced people have broad cheek bones, set by a narrow chin and forehead. Short, chin length bobs will be the most suitable for them. A high ponytail or a bun will compliment the features of such people.
Most of the females in Pakistan prefer long or medium length hair with bangs because they are more manageable. For formal occasions like dinner parties, females mostly go for curly or straight blow-dries. Young girls mostly enjoy changing their hairstyles and some are actually obsessed with their hairstyle. Primarily, these are one of the reasons why a lot of people are suffering from hair damage. Too much hairstyling is not good for hair because it dries the hair and weakens the roots.
Which hairstyle is your favorite? Which one is your hairstyle?