This chaiwala from Islamabad is a reason behind a lot of girl skipping their heartbeat.
Internet

 sensation this Chaiwalwa from Islamabad 
You must have heard about Fawad Khan, Hamza Ali Abbasi and Ali Zafar but wait this chaiwala is more into the possession then those. Look his eyes!!!
Also Read Trending Love of Wisdom – Love at First Sight
Chaiwala in Islamabad 
This Islamabad-based girl named Javeria Ali never new her photography will take the internet like storm. Rishta aunty's are ready to find a susheel girl and industry is waiting anxiously to take this handsome in any TVC. On Sunday-Bazar at tea-stall she spotted this handsome hunk and could not resist herself to photograph this handsome.
"I didn't expect [such a fuss] at all," shares the photographer Javeria. "It's very surprising."
Sher more added;
"I took the picture during a photowalk at [Islamabad's] Itwar Bazaar and put it up as a regular post on Instagram and it didn't go viral until four or five days later," she tells us.
Also Read A SATIRE ON SHAM DEPRESSION
She added how this picture were stolen and girl claimed to be photographed by her!
"Someone stole the picture from my Instagram since it had no watermark. This person claimed it to be hers. Later, a girl on Twitter (@albatrouz_)posted it and it started trending. Afterwards, Facebook page Sheikhspere posted the tweet on their page. I found out then that it went viral.
"People started tagging me and my Facebook blew up. Then I had to run after all the pages to [have them] give [me] credit and tell them it was my image.
Also Read BUILDING ATTRACTION: HOW TO LOOK ATTRACTIVE
"And then [popular Indian Instagram account] India Pictures shared the photo and my insta went viral. Since yesterday, my phone and Facebook has been buzzing.
"Thanks to the girl who claimed it to be hers, [laughs] and the twitter account @albatrouz_."
Twitter is yet again rolling over this trend!
Also Read Typical South Asian Women Be Like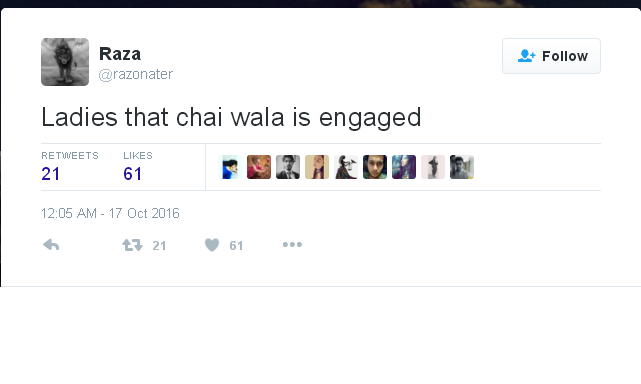 Fawad and Hamza must have set their eyes on this new sensation, get ready to have another star in the line. Internet has all the potential to famous anyone with any name under talent or beauty.
Momina Muhtesem Engaged – What if he is engaged!!!
Lots of boys like they were dying on Momina Muhetesm and she got engaged right after the famous event called Afreen Afreen in cokestudio. I hope girl won't survive like them. What if they'll come to know if the guy is engaged or married. I'm sorry i know i'm being too bad while portraying your dream splashing out loud.
Also Read Hijab And Abaya – Beauty lies within
No matter what Pakistan and specially Pakhtoons are full of beauty talent and amazing personalities. Like one of a twitter user said it's not accessory if all the guys wear black kurta and look amazing. Inspired by this another beauty in town is all about you can say "HANDSOME CRUSH".
Dear girls, Don't worry there's still hope, say to no to fawad khan, Hamza & Ali here is our very new crush this CHAIWALA FROM ISLAMABAD.
Also Read Star Amongst The Shadows – Daud Riaz
Like and spread this article if you want to viral this amazing photograph of this chaiwala and want to find him a great place over the industry and let him rule our heart.