We all know that the society we live in today is much concerned about our beauty, they may not judge hearts but faces and how we look, so what I think is that according to this our beauty should be our first priority, but who wants to harm the skin with a lot of make up as well? so here I have collected 8 beauty hacks that are friendly with our skin as well, in fact I would say best skin care there for us.

1. Get rid of oily hair.
Now a days a lot of girls suffer from oily hair or oily scalp problems which interrupts with their beauty routine. Oily scalp can lead to dandruff as well, so it's better to understand and get rid of it as soon as possible before it can further lead to hair fall. Lets get on to the point that how can you get rid of greasy hair, mostly dry shampoos are made for it but sometimes it's expensive too but don't worry a baby powder formula works the same because they both some how hold the same qualities but baby powder gives more texture!. Apply some onto your hair and rub it well in the scalp and you're done!.
Also Read DIY HAIR TREATMENT: EASY WAY FOR HAIR CARE AT HOME
2. DIY- pimple remover.
Why buy those expensive creams when we have the best natural ingredients at home to get that beautiful skin without harming it? Beauty hacks surely work wonders.
Use Lemon and honey to get rid of those nasty pimples and earn more softer and glowing skin. This wouldn't only help you get rid of those nasty pimples but will give you a lighter skin tone as well.
Also Read Beauty tips for your hair and skin this Summer!
3. Natural Sun block (all skin types)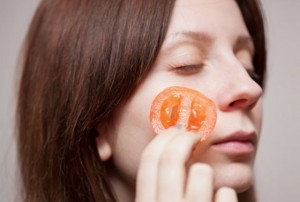 It's true that using sun block creams now a days results in skin cancer which you don't want to happen for sure so go on and try these natural sunblocks to prevent your skin from sun rays.
1. Cut 1 slice of tomato and apply it on face before going out, this will not only work as a sun block but will help prevent pimples and will tighten pores as well.
2. Aloe Vera is also known as a magical plant and instead of tomato you can apply Aloe Vera gel as well.
4. Accidentally purchased a foundation which is darker than your skin tone?
Adding some moisturizer can help lighten it. Plus point it will moisten your skin as well.
5. Out of mascara?
Don't throw your mascara when it's finished just add some oil to cover that mascara on the sides, it will give more volume to your mascara and oils are actually good for eye lashes growth as well.
Also Read Understand Eye makeup and How to use it
6. Don't want to mess with your whole makeup regimen? Use lipstick to add a little natural color to your lips, cheeks, and eyes.
This works wonders and gives a natural look on your face.
Also Read Hot Red lipstick for girls in love with red shade lipstick
7. Want to get those naturally big eyelashes in a week?
Every night before sleeping apply some Vaseline Petroleum jelly on your eyelashes. You'll notice the difference within 1 week.
Also Read Few tips to Make Your Eyes Lighter
8. Apply Eye Concealer the right way.


You've been applying your eye concealer all wrong, the right way is to make a triangle under your eye and blend it perfectly.
Also Read Formal Eye Makeup: Giving You a Successful Working Women Look
Do let us know your feedback after applying these few sink care beauty hacks,