Hair care is becoming more and more demanding with the passage of time. The pollution in the environment surrounding us is having a very bad effect on our hair. Most of the women today will complain about their hair being dry and damaged. This leads to other hair problems like hair thinning, split ends and patches of baldness. This is a nightmarish situation for any lady. Oils for dry damaged hair is one great solution to get the nourishment back to the hair.
In this article we are giving 10 miraculous oils for dry damaged hair. Oiling the hair to get rid of damaged hair has been a tradition that women around the world have been following religiously no matter which culture or society they belong to. Oiling gives an instant cure to dryness, and also starts the damage repair process. Even in ancient times, perfumed oils for dry damaged hair was the answer to get the think beautiful hair.
read more Calm Down Anxiety With These Essential Oils
So here are the 10 miraculous oils for dry damaged hair. Some of them are the essential oils so remember not to use them alone. Use them with a carrier oil added because these oils are too strong and need to be diluted before use.
10 miraculous oils for dry damaged hair
Coconut Oil
This is the best oil for all hair types. Coconut oil is not only beneficial but also it has the minimum number of side effects and reactions. It has been used for hair care for the longest time. The best thing is that you can use it as it is. No need to dilute it or put it in a hair mask first. Some people advise to heat the oil a little first before putting it on your scalp.  It has to be done in Winters when the oil solidifies, however it does not get hard. In fact it is the check for pure coconut oil that it gets solidified in the winter season.
Coconut oil stops hairfall. It makes hair thick and strong. It also give volume to hair and a very healthy and shiny look.
read more Facial Oils You Need In Your Life! 
Amla Oil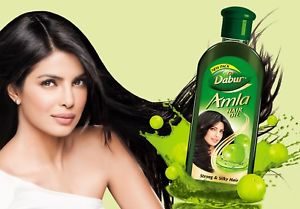 Amla oil i got from the fruit of Indian Gooseberry plant. This fruit is found in abundance in India and at some place in Middle East also. Indian women has been using amla oil and amla powder for hair care for centuries. The oil is obtained by soaking the fruit in another oil. Usually coconut. The mixture is placed in sunlight for few days till all the natural oils of amla fruit are soaked into the oil. As Amla oil in itself is strong, it is used with a carrier oil. It is very beneficial for hair because it cure the problem of dandruff. It can also make the hair stronger and thicker. It also helps in the cleanliness of the scalp.
Mustard oil
Now some people might wonder, why mustard oil is included in the list, but it is definitely a great strengthening agent. The trick to get the maximum benefit from mustard oil is a gentle massage on the scalp with warm mustard oil. Light massage the scalp with oil for fifteen minutes, then leave the for atleast two hours for a smooth conditioning effect to the hair. If the smell does not bother you, you can also leave it on overnight. Mustard oil is very healthy to the hair and scalp.
read more Camellia Oil Benefits For Your Skin, Hair And Overall Health
Olive oil for hair care
We all know olive oil is very healthy to consume with food and many people have now switched to using olive oil for cooking. What many people might not know is that it is also very good for hair also. It is a source of nourishment and strength for the hair. As far as oils for dry damaged hair are concerned, plive oil comes on the top of the list. It gives a conditioning effect to the hair. Apart from the nourishment, it also helps in lessoning the dandruff and lice are also known to die or run away from olive oil.
Argan oils for dry damaged hair
Argan oil is obtained from the Moroccan Argan tree. As the tree is not very easy to cultivate and is found in scarce amount, argon oil is rare and very costly in pure form. A number of hair care products containing Argan oil are widely available in market. They are effective as well as not that expensive. However just like all rare products for Argon oil too, you need to be very careful about the authenticity of the product as many fakes are also available in the market.
read more Here Is Why You Should Use Sea Buckthorn Oil For Skin
Almond oil
Again a very strong oil. It boosts the hair growth by increasing the blood circulation in the head. The easiest way to achieve best results with this oil is to massage your scalp with it for fifteen minutes.
Castor oil
Again a good oil to moisturize the scalp and recover the dry and damaged hair. It makes new hair grow so it is a cure for baldness and hair thinning. It also prevents the hair loss, thus making your hair look full of volume and bounce. Castor oil should be used in small amounts along with coconut or some other light oil. It is difficult to get it out of hair so you might have to shampoo twice to get rid of the greasy look from the hair.
Essential oils for damaged hair
Marula oil
It is obtained from the fruit of the marula tree which is native to Africa. However as the benefit of marula are becoming more and more pronounced, the cultivation of the trees is also under process.
Now we list some strictly essential oils for dry damaged hair.
Lavender oil
Again a great hair care product. This is essential oil. The best carrier oil to use with lavender oil is either olive oil or coconut oil. In this way the hair strengthening power can be increased. There is a famous hair mask that uses lavender oil, which comprise of just three ingredients. Here is how to make it.
Add ten drops of lavender oil in a small quantity of coconut oil. Add a couple of drops of lemon juice in it. Mix the three ingredients together. Apply this to the hair for some time before washing it away. This will give you amazing hair.
Jojoba Oil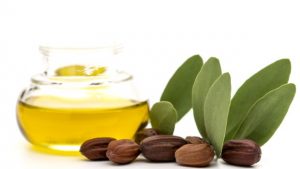 This is again a really hair strengthening oil. Jojoba oil (pronounced ho-ho-ba) is the liquid that comes from the seed of the Simmondsia chinensis (jojoba) plant. It is not only good for hair but also for skin as it fights acne and sores. It can be used with your conditioner to give you a long lasting smooth and shiny skin.
read more Age Gracefully By Following These Tips!
 These are the oils that we can use to have perfect looking hair. Do you use any of them? which one is your favorite? Let us know by commenting below.