Rosewater is probably the cheapest beauty and skin care product available. However unfortunately most people do not know about the health and beauty benefits of this simple but useful product. It is widely  used in the Asian countries. In the countries like Iran, India and Pakistan there is an abundant use of rose water by women for a variety of purposes. Here we list 8 amazing rose water benefits that you might not have known before.
This article focuses on 8 rose water benefits for beauty and health. However it has many other uses too.
What is rose water?
Rose water is obtained by steeping petals of rose flower in water. It gives a beautiful fragrance as well as essence and properties of rose to the water. It is also produced as a by-product when manufacturing rose oil, when the rose petals are distilled, the hydrosol is the rose water.
read more Ombre Hair Vs Balayagi hair
It is also widely used in culinary for giving a beautiful aroma to food especially to deserts like sheer khurma, gulab jamuns, firni or entrees like biryani, korma, and pulao. Rose syrup is made by adding sugar to rose water. It can be made at home too if you have the flower growing in your home.
So here you go, we are giving 8 Rosewater Benefits for skin, health and beauty. Hoping they might help you and safe your money being wasted on expensive creams and cosmetic products.
read more Add These Products To Your Skin Care Routine Before 40 To Look Younger Longer!
8 Rose water Benefits that you did not know
A great moisturizer
Rose water is a great moisturizer. In summer and in winter, in fact all through the year it can be used for hydration of the skin without being worried about skin looking oily or the look of too much makeup. It gives a natural and original glow to the skin. It will keep the moisture within the skin. It has a long lasting effect and can be used many times a day and there is no danger of damaging the skin in the process.
read more You Need To Be Wary Of These Bogus Claims Found On Skin Care Products
A cleanser
It is mostly water along with rose. It can act as a mild cleanser which will leave a beautiful fragrance at the end of each use. It can be used to remove makeup at the night before going to sleep. Use with drops of coconut oil added to the mixture. Then dab some cotton in the mixture and use on your face. This will not only cleanse your face but there will be no after effects.
As a great fragrance
Rose water benefits are manifold, rose water can be used to improve hygiene  by being used for perfume and fragrance purposes. The beautiful smell of rose flower will linger on your clothes and body if the water is sprayed on your clothes and body. It is widely used as an air freshener. Especially in religious ceremonies there is an abundant spray of rose water in the air to give it a holy and superior touch. It is much cheaper than expensive luxury perfumes and lingers on much longer. It also has no side effects. It will not cause any skin irritation or reactions.
read more Skin care tips for humid weather
In face packs with a number of healthy ingredients
Rose water can be widely used in face packs. You can replace the rose water wherever water is used. Here are some of the top rose water masks that can be used to get brighter and smoother skin.
Rosewater and gram flour
Mix a tablespoon of gram flour in rose water to make a paste. Add a little honey to the mixture. If the mixture is too thick add a couple of teaspoons of rose water more to make it thin enough to apply on the face. Cover the face completely taking care to protect the eyes. (You can cover the eyebrows also there is no harm in it, but do rinse the brow hair thoroughly afterwards so that there are no particles or traces of flour remaining in your eye brows) Wash the face with tepid water and get glowing results.
read more Dermatologists Are Following These Skin Care Tips, Why Aren't You?
Rose water and egg mask
If the smell of the eggs deter you from applying it on your face, then use rose water with this mask. Here is how you can make it.
Beat an egg in a bowl thoroughly, once it is beaten up nicely, add half teaspoon of honey in it along with two tablespoons of rose water. Then mix the contents until a smooth paste is formed. Apply the mask on your face and leave it for twenty minutes. Once dry wash with tepid water. The result is once again glowing skin.
For hair health and scalp cleanliness
Rose water can be used on the hair too. It will give a sweet lasting smell to your hair. As the rose water has antibacterial properties, it can give a deep cleansing effect to your scalp. It also helps to reduce dandruff and oil from the scalp. Do try it out on your head to get a refreshing look.
Fighting skin problems like acne, eczema, sun burnt etc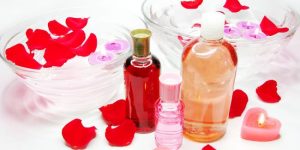 Because of the anti-inflammatory and antibacterial properties the rose water is great for figting against acne, eczema and other skin issues. It will reduce the skin irritations and soothe the skin. Whenever there is a bad case of skin burns or minor cuts or injuries, rose water can be used along with regular medicines.
For the freshness of eyes
Rose water is definitely great for skin, which we have told you by now, but rose water benefits do not stop here, it is also good for your eyes. If you have tired eyes, a few drops of rose water in each will freshen them up. It is anti-inflammatory too. It helps to cure pinks eyes or mild eye infections and irritations. Even if there is no problem a drop of rose water in each eye helps in keeping the eyes fresh and clean for a long period of time.
read more The Skincare Secrets You Absolutely Need To Know!
For a luxury bath
If you are tired or stressed out, a bath with rose water is a great way to relax and feel fresh. It will rejuvenate every muscle in your body and cleanse you from all impurities. Add lots of rose water in your bath tub. You can add some mild bath bombs too, just make sure the rose fragrance does not die down. Then take a long and relaxing bath.
So these are some of the benefits of this simple and inexpensive product. Rose water benefits can be reaped with little effort and they are long lasting and promising.
So you use rose water? Any other rose water benefits you would like to share? Let us know by commenting below.