Tea is a popular drink of choice all over the world. Whether its green tea, piping hot tea, black tea, iced tea, or kahva, most people can't say no to it. The popularity of tea has given rise to hi-tea, and afternoon tea, which has become a culture of their own. Restaurants and hotels now offer hi tea. People bond over cups of tea and hi-teas make that bonding more enjoyable. They are also great for informal meetings, where you can chat and unwind over delectable sandwiches and cakes with a nice cup of tea.
How Did the Afternoon Tea and Hi Tea Culture Begin?
Afternoon tea or hi-tea is a light meal usually eaten between 3.30pm and 6pm. Observance of the custom began from the wealthy classes in England in 1800s. Anna Maria Russell, Duchess of Bedford, is credited for transforming afternoon tea in England into an afternoon meal. By the end of the nineteenth century, afternoon tea had developed to its current form. It was practiced by both the upper and middle classes. It was everywhere, even in the faraway villages. For the more privileged and wealthy, afternoon tea was served with delicate savories like cucumber sandwiches or egg sandwiches, bread and butter, scones with cream and jam, and cakes and pastries. The sandwiches were cut into small segments, as triangles or fingers. Biscuits are not served usually. Slowly the culture spread all over the world, and it is not limited to the UK now. Many hotels, restaurants, and eateries all over the world offer hi-tea and afternoon tea. They are usually served in form of buffets, with per head charges. The most pleasurable part is indeed the countless cups of tea that you can drink.
How Has the Culture Evolved
High tea usually consists of a hot, light dish, followed by cakes, pastries, and bread, butter and jam. Sometimes there would be cold cuts of meat. It is no longer limited to the upper class or British people. People all over the world enjoy high tea now. In fact, an afternoon or evening tea with a light meal is actually common all over the world now. So, in a way, people have their own versions of high tea and afternoon tea now. Most commonly served items are sandwiches, biscuits, and savory items like pies, samosa, and patties. The consumption of tea and coffee has increased a lot over the past few years. People sip tea throughout the day in their homes, offices, and universities. Tea contains caffeine which has a feel good factor to it, and makes people feel revitalized and energized. Tea is also a lot more affordable now. They are also easier to make, particularly the tea bag ones. The introduction of powdered milk has made the preparation of tea even easier. Premium and high-quality teas are also available in the market, but these are usually more expensive. Other variants like green tea and iced tea are also now commonly available. Green teas are not reserved to the usual minty flavor now, but you can also buy fruity and exotic flavors now like peachy tea and cinnamon tea.
Also Read: Best Summer foods to keep you cool
Why is it called 'high tea'?
A possible explanation why is that the tea and accompanying food items were eaten at a table. Comparatively, afternoon tea was taken while sitting in low, comfortable chairs or sofas, like in a drawing room setting. In fact, variations of the afternoon tea developed by the upper class later came to be known as high tea. It was a meal that could be eaten when without help from servants and maids as it was easy to prepare. The high tea was like an evolution of afternoon tea along with the addition of pigeon, salmon, and fruits.
Afternoon Tea menu served in the UK is often referred to as high tea in many other parts of the world. That is why some hotels, like The Ritz in London, use the term high tea in London to advertise the Afternoon Tea because a many of their customers are from other parts of the world. Some places serve a special high tea menu which includes additional savory items like Welsh Rarebit, English muffins, pies and omelet.
Menu Ideas
An afternoon/evening meal, served usually from 4 – 6 pm, includes the tiers of little crustless sandwiches, scones, clotted cream, curd, sweets and many servings of tea. There are no rigid rules about the contents of a menu, but usually consists of sandwiches and a variety of sweet items. A typical menu offers a selection of freshly prepared finger sandwiches, scones with clotted cream, preserves, and jams.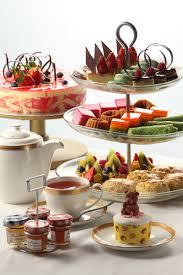 Afternoon tea trays have three levels:
Top one has variations of plain, sweet and savory scones like plain, buttermilk, whole wheat, cream, chocolate glazed, sweet Dried Fruit, fresh/frozen berries, date, savory, cheese and choice, and fresh herbs.
Middle one has sandwiches like coronation chicken, cucumber, cucumber and salmon, salmon, eggs, watercress, tuna, cheese puffs, goat cheese, raisin bread, pinwheels, fig tarts, tomato tarts, mushroom tartlets, and quinoa cakes.
Also Read: Also Read: Power of Antioxidants – Advantages of Antioxidants
Bottom layer has sweet biscuits, coconut sandwiches, lady fingers, Florentines, chocolate biscuits, chocolate Oreos, oatcakes, shortbreads, angel food cake, rhubarb cake, Victoria sandwich, banana bread, currant buns, fruitcakes, bran loafs, pumpkin bran muffins, eclairs, macaroons, peanut butter fudge, sugar plums, caramel truffles, dusted truffles, Turkish delights, fudge cupcakes, brownies, flapjacks, berry tarts, chocolate pie, custard tarts, jam tarts, and pumpkin tartlets.
Different cultures have their own variations as well. For instance in Pakistan you will also find samosas, tikka (meat chunks), aaloo ki bhujia (potato curry), kheer (rice pudding), gol gappay (a salty snack), haleem  (made with gravies, lentils, and wheat), bun kabab (pakistani take on burgers), gulab jaman, etc.
Ettiquetes
As hi tea and afternoon tea culture originated in Britain, it can be expected that there are some etiquettes attached with it. British are very proper people and they have set ways of doing things. Here are some customs and etiquettes you must follow while attending a hi tea:
Pour tea first, followed by sugar or sliced lemons. Never add milk and lemon together as they will curdle and cause stomach issues if ingested.
Pour milk after tea.
The hostess should pour.  If you are enjoying tea at a tea house, the person who is closest to the pot should serve.
Spoons should never stay in the cup.
Use both of your hands to lift both cup and saucer.
Eat savories first, scones after it and sweets in the end. Or eat the scones first while they are hot, and then eat savories, and then sweets.
Split the scones horizontally before adding spreads.
Put clotted cream first on scones, then jam. Eat with fingers neatly.
Eat bite size pastries with your fingers, break off small pieces before eating. Use a dessert fork to consume larger pastries.
Do not dunk unless the party is informal.
Tea Rooms and Tea Houses
These days, a formal afternoon tea is more of a special occasion, often taken as a treat in a hotels and restaurants. The food is usually served on a tiered stand. You can also find tea rooms and coffee shops in many places. These used to be common in the UK. A tearoom/shop is a small restaurant where beverages like tea and coffee and light meals are served. They usually have a light, relaxed atmosphere. A tea house is a place which serves tea and light refreshments. Tea houses sometimes serve as centers of social interaction. In Nepal and China, a tea house is a place which offers. People gather at tea houses to talk, mingle, and enjoy tea. Young people often meet at tea houses for dates. Some tea houses serve dim sum too. In Japanese tradition, a tea house is used for holding Japanese tea ceremonies. This is called chashitsu . The architectural space called chashitsu is created keeping aesthetic and intellectual fulfillment in mind
In Arab countries like Egypt, places that serve tea, coffee and herbal teas such as karkade are known as ahwa or maqha. The tea in Arab countries is normally a strong dark blend. Arab teas are often brewed together with sugar and served in tall glasses, filled to the top. It is presented with more sugar. It is also sometime served with mint or cardamom, or with a some of milk. Another special tea is Maghrebi mint tea also known as Moroccan, Touareg and Sahrawi mint tea. It is a green tea made with spearmint leaves and sugar, traditional for the Greater Maghreb region. It has also spread throughout North Africa, some parts of Sahel, France and Arab world. In Spain it is known as "Moroccan tea". A similar drink is made in Spain but it is served chilled as iced tea in the summer. It is a combination of imported ingredients and local ingredients so it is an example of globalization in cuisine. In Turkey, they usually drink black tea in very small cups. This is so that tea can remain hot. Tea is very popular in Turkey. Herbal teas are also used as herbal medications. They are popular with tourists with things like apple, rosehip, lindin flower, and sage. On a separate note, Turkish coffee is also very popular throughout the world.
In Pakistan, you can small tea houses dotted across the country. These usually serve chai (tea). They also serve breakfast of crispy parathas and omelets in morning. The road side tea shops are usually men only. The owners and serves are usually Pathan. These tea houses are frequented by students and working class young men to unwind and socialize.
The teahouse culture has recently changed in Pakistan. As opposed to Western countries where coffee shops dote the streets, Pakistan has a lot of tea houses. This is partly because the weather is mostly hot in Pakistan, and in such a weather it does not make sense to have coffee. Coffee is enjoyed in winters, with add-ons like cream. There are also some coffee cafes like espresso. A lot of dhabas have opened up which cater to the middle and upper class. They are frequented by men and women alike. Thir ambiance is a little like those of road side tea shops, but a little more well managed.Along with tea, they serve food items like cheese parathas, nutella parathas, chicken parathas etc. The well known Pak Tea House is an intellectual tea café located in Lahore.
What is the tea ritual in your country? Do you enjoy your tea alone or do you like to engage with people over a cup of tea? What do you like to eat along with your tea? Let us know in the comments box below!