Summer is in full swing now and people are ready to party hard. Many people are about to go on their annual vacations. Of course the main and most important step before going on the vacations is to buy the proper clothing and accessories for the upcoming sweltering sunny days. Summer fashion essentials are an important list of items because summer season is usually one of the longest seasons in most of the parts of the world.
Everyone has a list of summer fashion essentials that depends upon what your summer plans are, are you going on a vacation or not, are you going to spend a good amount of time on the beach or not, are you planning or day parties or night time fun. There may be many factors that would determine what you would shop for in the summer but there are definitely some summer fashion essentials that everyone needs to spend the hot season easily without feeling completely lost about how to dress up or what to wear every next day. Dressing up becomes so much easier when you have a closet full of summer fashion essentials and you can pass the entire season without any stress.
So here is our list of items that we think no one can got without through the season. You can add these to the things that are a part of your summer fashion essentials list if they already are not.
Sunglasses
Do not go outside without a fashionable pair of sunglasses perched snugly on your head. It is good to shield your eyes from the heat of the sun as too much exposure to the sunlight ma give you cataract in the long run. So sunglasses is not just an accessory it is a necessity too. Cat eye sunglasses are all the rage this season. Aviators in strong colors can also be worn. So it is good that you have a couple of nice pairs of sunglasses to go in the summer season. Here are some cool sunglasses to go in the summer season.
you want to know about latest summer sunglasses style
Straw hats
Straw hats are great beach accessory but they are not exclusive to beaches only. They can be worn any time of the day whenever you go out of the home. They not only add to the style but also it is a great way to block out the sun. Broad brimmed hats are best to protect your face and your skin from the sun rays. They will protect you from having a sun burnt. Your can embellish your straw hats with ribbons and feathers or wear them as is.
Sun block
Do not risk going out in the sun during the summer season without wearing a proper sunblock. Summer is the time of the year when the sun rays would be strongest causing sun burnt. So in order to protect your skin it is essential that you wear a good sunblock. Here is how you can properly apply sun block to protect the skin. Choose the sun block wisely. Here is how you can wisely protect yourself from the sun.

Flip flops
The most comfortable pairs of shoes for the whole family are the flip flops. Everyone must have a good pair of flip flops to do good in the summer. Flip flops can be worn on the beach. They can also be worn in the home or when you go out nearby. They keep the feet cool although do not wear them for long distances because the feet might get dirty. Flip flops are available in a variety of summer colors. You can pair them up with any outfit and enjoy the summer experience.
Colorful sun dresses
Sun dresses are available in a wide variety of colors and designs. They may be plain or have flowers, polka dots, or any small and cute pattern in them. They are usually made up of cotton to prevent you from sweating and feeling hot all the times. The cuts in the sun dress give you maximum air passage and you can feel light and energetic in your sun dress. Sundresses can be worn with cute accessories like waist belts or cross body bags. Wear a great sun dress on the beach or to a party, because in summer season you will always look chic in a sundress.
Play suits or jump suits
Another very comfortable dress for the summers are the play suits or jump suits. It is a single piece and snugly worn on the body to give you the maximum amount of comfort and ease. There is so much variety in styles and designs of jump suits available. There are so many patterns too like florals, animal prints or jungle themed. You can wear playsuits that have tank top uppers or full sleeves. Net sleeves and shoulders are also in fashion for jump suits.
read more Skin care in Summers
All kinds of cotton and denim Shorts
Shorts are great to wear in summers. Everyone turn to shorts when they are undecided about what to wear. There is so much variety in shorts available to choose from. You can choose cotton for comfort or denim for style. You can wear shorts to casual and semi-formal both types of events in the summer. Crop shorts, or normal length shorts, you can try both for variety.
Capri pants
When you need to go to a formal event and shorts seem too casual you can wear a pair of cool looking capri pants. Capri pants can be worn for woman of any age or size. They look good with medium sized shirts. Like the shirts that would cover up your thighs and are well above the knees. Black or white capri pants can be worn with any color clothes and look nice and cool in the summer season.
Denim overalls a definite Summer Fashion Essential
Overalls are also a summer favorite for women and girls alike. They can be the classic blur color or any other light shade like baby blue or baby pink. You can wear a printed overall with a plain t shirt or vice versa. Overalls never go out of fashion and make a great comfortable summer clothing.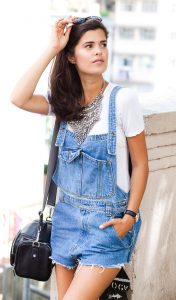 Skirts Are Summer Fashion essentials
Skirts again are a fashion statement in the summer season. You can wear long and short both type of skirts in the summer. The short shirts not only look cool but will also keep you cool in the summer heat. You can wear shirts with cool accessories like ruffled blouses and colorful head pieces for a girly look. Skirts in neon colors are very in this season and you must own at least one pair of neon colored shirts. You can also wear a button down shirt with a skirt.
T shirts
Summer is the time when you can wear your favorite t shirt and make a fashion statement. The short sleeved t shirts with statements look cool in summer. You can wear the tees with shorts, pants, skirts or capris. Tight tees look good in winter. Summer is the time for loose tees that help you keep light and airy in summers.
read more Men's Fashion – Stylish outfits to Wear in Summer for Men
Formal summer dress
You must own one formal summer dress too like a lace dress or silk dress. In the summer season, there is usually at least one formal event like a wedding so your wardrobe must accommodate a great summer dress that can be worn at any formal occasion. Lace dresses are always in fashion and look good in summer. Also fish tail dresses make a great summer attire. When you are choosing a formal summer dress be careful about the colors. Choose something that will go with light makeup so you do not need to cake up in the sweltering heat.
Sandals and ballet flats
Another essential for summers are sandals and flat shoes. Sandals need to be colorful and comfortable. Choose such colors that will go with all your outfits. Same is the case with ballet flats. In fact ballet flats are your savior and where ever you go and cannot decide what to wear you can wear the ballet flats. Ballet flats will look good on short dresses and skirts. They look good for wearing without socks. You can pair the ballet flats and sandals with sundresses too. Here are some very cool sandals for you to wear.
read more Treat Yourself With Frozen Foods This Summer
Tunic dresses
Tunic dresses are also a great piece of clothing for the warm and sunny summer days. They are short and will keep you from sweating. The tunics can be worn with a belt and boots to give it a very cow girl type style. You can also wear plain tunics. Pairing up f tunics can be with leggings and capris.
This was our list of summer fashion essentials. Let us know if you would like us to add something to this list. Which is you favorite piece of summer fashion essential? Share with us by commenting below to let us know about it.